Reading Time:
5
minutes
More and more, where your business is located, relative to where a potential customer is searching for you, factors into not only your search engine results rankings, but also your general visibility on a search engine results page as a whole. That's where Local SEO comes in.
Local SEO
This is because, according to one study, the rise in smartphone usage over the last 5-7 years has resulted in a reported 80% of searchers using their mobile devices to find local information, on the go. Even more, a reported 1 of every 3 searches performed on Google is "geo-targeted," or made with a specific location as part of the query (such as, "best steak in Cincinnati"), and now, with the rise in mobile devices equipped with location-based technology, Google actually geo-targets some search queries, even if the keyword terms do not call for it. After all, proximity (usually) only increases the relevance of search results, and relevance is the name of the search engine game.
As a result, search engines like Google, Bing, and Yahoo have introduced a number of features and strategies, designed to accommodate this rising thirst for specifically local information. For the purposes of this post, I'll be concentrating primarily on Google features, since they have been the pioneers of the shift to local search.
Here are five things our SEO team at webFEAT Complete concentrate on daily, to maximize our clients' local SEO:
Google My Business/Google+ Local Page
We've already devoted a full blog post outlining how to make the most of your Google Business Listing, but here's a rundown of what it is and how it will benefit your business's web traffic.
Google "My Business," which used to go by the moniker "Google Places," is a platform that generates the information users see about nearby businesses when using Search, Maps, or Google+.
For instance, here's what webFEAT's business listing looks like, as it appears in the right sidebar of a branded search (i.e. a search for "webFEAT Complete"):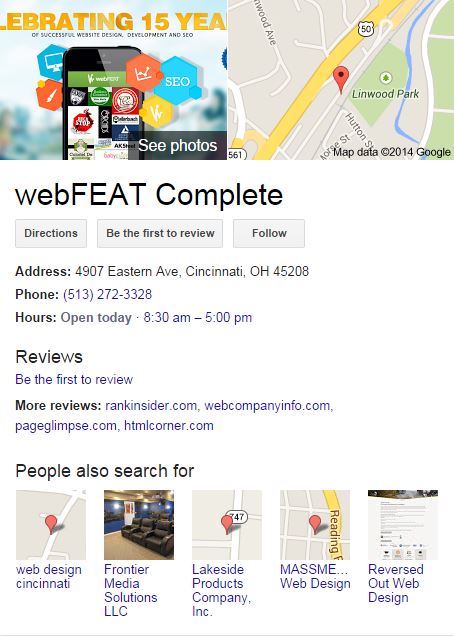 And here's what happens if you put "Cincinnati web design" into a Maps search: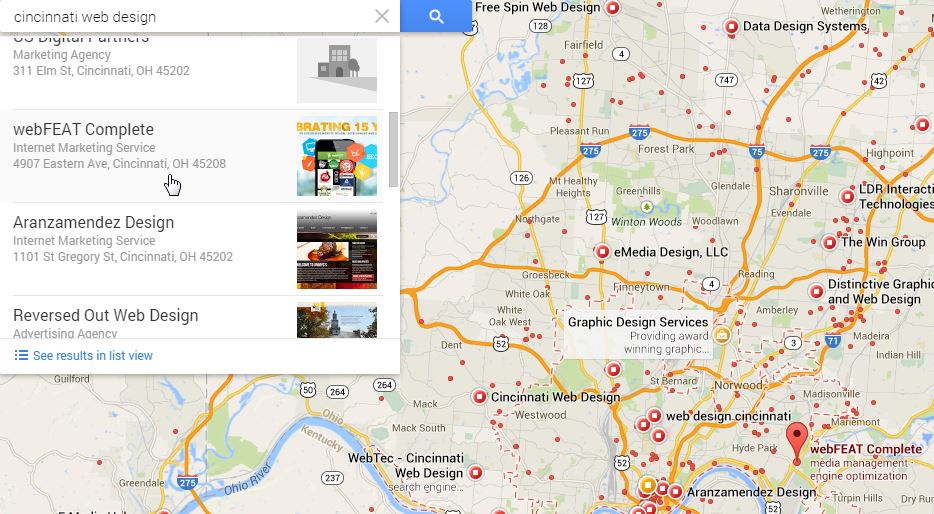 Clicking on the webFEAT listing, will reveal even more information: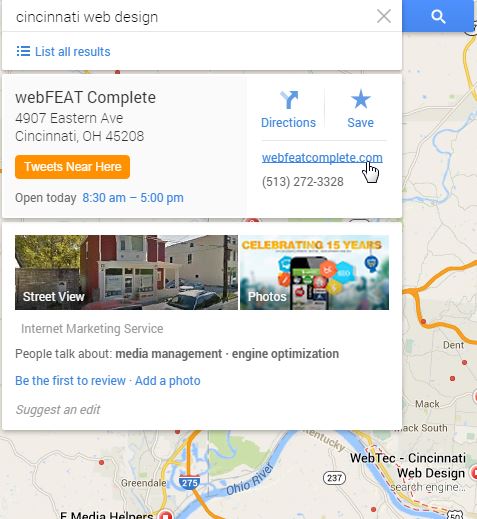 All the information contained in these results (as well as the Carousel and Local Search Pack, discussed below) is sourced from webFEAT's Google Business listing, so it is important that this information is kept up-to-date.
My Business will also automatically generate a Google+ page, to link the reference function of the listing with the social function of Google+. Linking Google+ and My Business also allows for a business listing to display a business's Google review rating, as well as display more content than simply that which is found on the listing.
Google will favor any business that keeps its listing and Google+ content fresh and updated frequently.
Google Carousel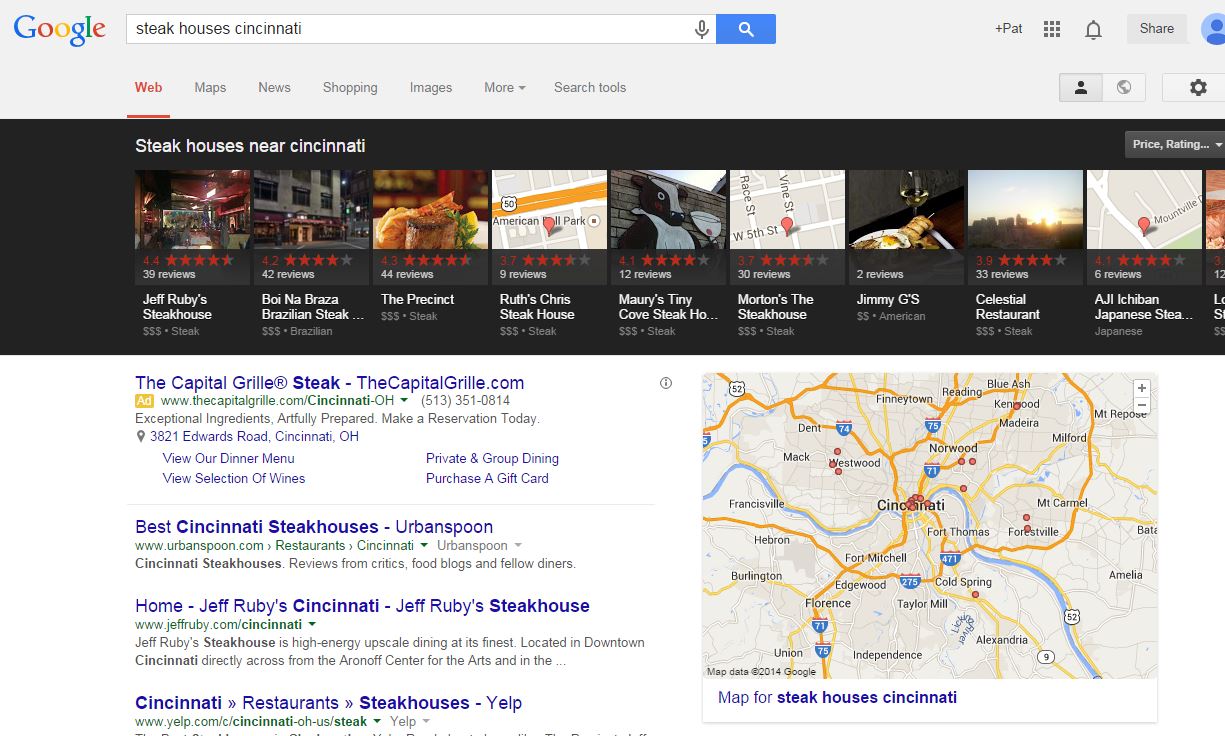 The Google Carousel (the black row of photo links above the search results), like a projector carousel, is a highly visual tool meant to highlight the most relevant and engaging search results. It appears above any of the organic search results, and pulls its images from user reviews, public uploads, Google+, and Google My Business.
The more of these types of content you have — especially reviews and other engagement on Google+ — the more likely you are to be featured in the carousel. The quality of the content, whether that's referring to the resolution of the photographs or the number of times a link has been +1'd on Google+, also contributes to its likelihood of being featured.
Local Search Pack
In the same way the Google Carousel segments business listings into a particular space on the search engine results page, the Local Search Pack is a list of seven (at maximum) local business listings that come below the top three organic search results, and the Google ads, which usually appear at the very top. It will usually look something like this: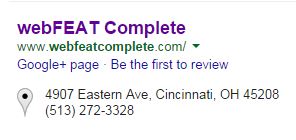 Notice the link to the associated Google+ page, as well as — AGAIN — the focus on reviews. Speaking of which…
Reviews, Reviews, Reviews!
In addition to discussing reviews in our Business Listing post, we've also dedicated a separate post to why customer reviews are so important for SEO. A few stats are worth reiterating here, though:
90% of consumers read online reviews before patronizing a business
79% of consumers trust online reviews as much or more than personal, word-of-mouth recommendations
A consumer is nearly a third (31%) more likely to spend on a business with "excellent" reviews
Why does this matter for local SEO? Remember, first, that a business with more reviews is more likely to get featured in the Google Carousel, and those reviews also show up as part of the information displayed in other business listing formats, like maps search results and the Local Search Pack. Many experts agree that, whether they're left by Google users on your Google+ or external to Google on a site like Yelp, reviews are one of the most significant factors that determine a site's appearance in local search results (and remember, Google is beginning to think of more and more searches as local searches).
Business Citations
The last local SEO component I'll discuss is really just a category that describes all the rest: business citations. A business citation can be thought of similar to a backlink, or, basically, any instance in which another website (including Google) references your business information. Common examples of business citations would be listings on Google, Bing, and Yahoo, or on YellowPages.com, a consumer database site, or other city-based business directory sites. Here's a list of directories for Cincinnati businesses.
Usually getting these listings published requires some form of verification (Google, for example, sends a postcard containing a temporary verification code to the address listed) to complete, and it's also very important that all the NAP (name, address, phone) information listed across the various platforms you're using is maintained and refreshed consistently and whenever necessary. If your information is inconsistent, Google, when it crawls the web for relevant information about your business, will get confused, and your rankings and visibility in these listing displays mentioned above will suffer.
Managing your own local SEO takes diligence and, sometimes more costly, time. But it is something that, if not maintained, can really give your competition the leg up on your business. webFEAT Complete can help! Take a look at our SEO services, and give us a call!