Ray Tomlinson sent the first ever email to himself in 1971 and, since then, email marketing has grown to take the world by storm. There are traditional ebbs and flows in the trends of email marketing, but the overall strategy of communicating with subscribers via email is proven to be effective. Whether it's to notify current customers of a sale, provide updates about your business, or encourage a potential customer not to abandon their cart- emails are powerful and effective.
According to Oberlo in 2020, 81% of small businesses rely on email marketing to acquire new customers. Since the beginning of the pandemic, it has grown increasingly necessary to reach people where they're at. This drives businesses to continue to switch their focus towards digital marketing. With that shift, email marketing continuously achieves great success. Because of the growing success of email, we put together a list of the most popular trends we're seeing so far in 2022. Hopefully these help get ideas rolling for your own email campaigns.
Email Personalization
This first trend has been around for a while, but the hype still hasn't died. Adding personal elements into your emails helps to increase open rates, engagement, and conversions. There are so many different ways that you can personalize your emails:
Including the recipient's name in the subject line

Including the recipient's name in the body of the email

Sending them a product listing that they were looking at earlier that day

Using personalization to show you appreciate them as a customer

Offering discounts, rewards, freebies

Birthday emails
Since personalization has been around for so long, there are many statistical examples proving its success. According to LiveClicker, emails that have an element of personalization in their subject have a 26% higher chance of being opened. They also reported that emails sent to customers on their birthdays generate a 342% higher revenue than regular promotional emails 
Plain text emails
Plain text emails are, well, pretty self explanatory. They're plain text. The emails you send back and forth between coworkers- those are plain text. No flashy graphics, no -click here- buttons. Just plain, simple text. And they're growing in popularity for use in sales emails/email marketing. 
With the growing popularity of email marketing, the majority of the population expects flashy emails with stand-out CTA's trying to sell them something. The power of plain text emails comes from their ability to make an email feel personal. Like I explained, plain text emails are what you send between colleagues, friends, and your mom. When people receive a plain text sales email, it can throw them off of their "I will not be sold to today" wall. A study done by Litmus showed that, between a plain text email and an HTML (graphics based) email with the same content and goal, the plain text email had a 60% higher conversion rate. 
Focusing on Mobile
Think about the number of emails you read on your phone versus your computer. It should be no surprise that a large number of users will be opening your email from their mobile devices, such as a phone, tablet, or e-reader.  That's why it's up to you, the marketer, to make sure your emails are optimized for viewing on a small screen. Otherwise, you may well be wasting a good chunk of your efforts. 
Drip campaigns
Drip campaigns are a set of marketing emails that begin when triggered by a certain event and then continue to send automatically over a period of time. These emails can be personalized in lots of ways, making them even more effective. You can build in code to add the recipients name, location information, birthday, the opportunities are endless based on what event triggers the automation. There are a variety of different event triggers for drip campaigns:
Businesses sent these emails when a user added something to their cart in your online store, but goes a certain period of time without completing their order. You can set up an automation to send them an email saying something like "Hey! Did you forget something?". Klaviyo reports that, on average, abandoned cart emails earn $5.81 in revenue per recipient.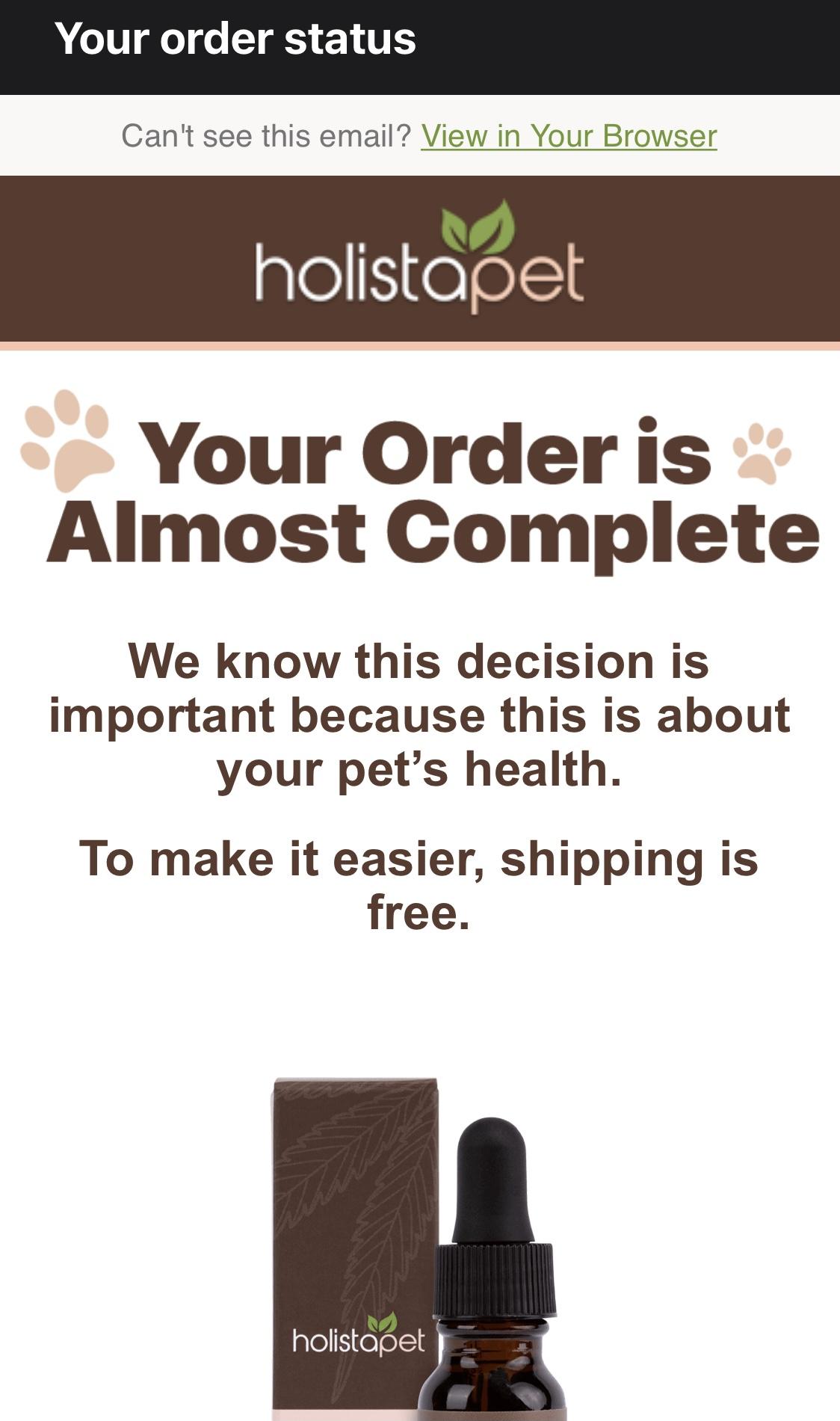 Birthday emails are a great automation to help your subscribers feel like they're important to you. You can set up an automation to send on their birthday, triggered by their information in your database. Not only does it make recipients feel special, Thomson Data reports that birthday emails increase conversion rates by 60% compared to regular promotional emails.
Welcome subscribers series
When someone subscribes to receive emails from your company, you can have that signup trigger an automation series. You can curate a list of emails to send to them over a period of time to convince them to continue to interact with your company. 
User-generated content
User generated content, again, is kind of self explanatory. It's when businesses use the content that individual users create as a sales and marketing tool for their business. It's letting their customers sell their business. UCG brings word of mouth marketing to a whole new level by leveraging the things people say, do and create about your business to sell your products to other people. This strategy is quickly gaining popularity in email marketing. Some businesses use email to generate this UCG. They blast their desired hashtag in emails or requesting reviews and image submissions. This is such a powerful, buzz building tool to help get the word out about your business and let your client base help you build more customers.
Emphasis on Privacy in Email Marketing
Privacy is a huge topic all over the world in all aspects of life: phones, home security, and especially digital marketing. Users want to know their information is protected and that all messages they receive are consensual. While CAN-SPAM compliance emerged in the mid 2000s, email privacy is more important now than ever. Your emails need a clear unsubscribe button and a way for people to opt out of receiving emails from you, or it could be the end of your email marketing strategy. 
Review request emails
Customer reviews are imperative to help encourage other people to work with you or buy from your company. People are more likely to leave an unprompted review when they have a bad experience than when they have a good experience. The businesses who have zillions of positive reviews are likely engaging in this trend: sending out review request emails. These can be triggered on automation, or sent personally. When a client receives an item they ordered from you, or your business completes a project for them, send a review request email. You can direct them to your desired review platform (Google, Yelp, etc.) to rate their expereince. Though this doesn't put money directly in your pockets, it positively impacts your business's image, which boosts your ROI.
As the world shifts and strategies have to pivot, email marketing reemerges in the spotlight of successful marketing strategies. Focusing on this cost-effective marketing method will boost your business's ROI, image, and exposure. If you would like help to develop your email strategy, reach out to our team. Our experts would love to help you get started on a track to success in email! 
""