Like the term implies, a call to action (CTA) is a crucial component of any website design because it provides the opportunity for a visitor to engage your company (and hopefully do business). Put another way, it's where your site prompts a visitor to reach out and get involved with your business. Without calls to action, a website is just a virtual reference book, rather than the conversion- and income-generator it can be.
This makes them very important.
Some common examples of calls to action include:
Form submission
Lead generation
Social sharing buttons
"Contact Sales"/"Request a Quote"
Event promotion
How does your site prompt visitors to action? Next time you browse your site, ask yourself these three questions:
#1: What's the Call to Action?
It should come as no surprise that the primary focus of every Call to Action should be the action itself. The content surrounding your CTA's — i.e. a vivid description of services, a new, informative blog post, or a portfolio of past work, for example — engages your visitors and brings them to your site. The CTA then guides them to take action on this new information you've provided them. Types of action your website users can initiate include clicking a "Call" button, filling out a form on your contact page, or clicking on an e-mail link – just to name a few.
Here are a few CTA's we have implemented throughout our site to give you an idea of the many options available:
The use of Tel: links so users are able to call you directly from your website:

Tel links are an especially useful Call to Action for mobile users browsing your site. These will allow your users to call you directly from your site instead of having to remember the phone number, close their browser, and then type the number into their phone. You want to make your calls-to-action as user-friendly as possible.
Adding a simple Form to the sidebar of your website: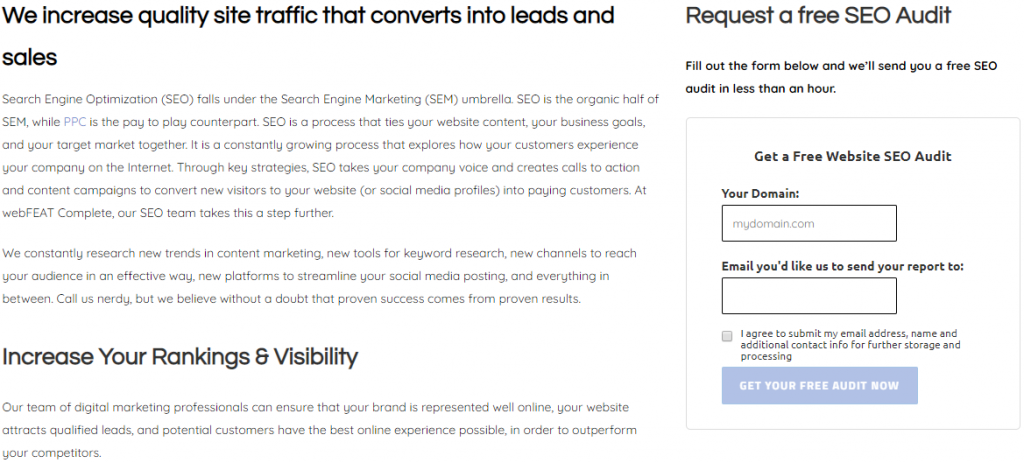 Adding a form fill next to well-written descriptive text is highly effective because you are making it easy for engaged users to start working with you or purchasing a product/service you offer.
Including an RFQ button next to your site's main navigation:

An RFQ button in the main navigation is a constant reminder to your users to get in touch with you. You don't want users to have to browse through your site in order to get in touch with you; instead, always allow users to reach a contact page within 1 click. Notice how the RFQ button is highlighted in Green to increase the rate at which users will see and click it.  Adding unique features to your calls to action when possible is always a best-practice for improving click-through-rates.
Tips for keeping the action at the forefront:
Use actionable, language (DO: "Download Quotes"; DON'T DO: "100 Inspirational Quotes Here")
Use descriptive language (DO: "Get inspired by these inspirational quotes…"; DON'T DO: "Click here")
Compel visitor to seize the moment (DO: "Get daily inspirational quotes to your inbox in just 2 clicks")
#2: What's the Point?
As shown in the examples above, simple CTAs are good but there is more you can do to maximize the effectiveness of your CTAs. For example, you should also explain why/how this action will benefit whomever takes it.
This Hotjar Call to Action (shown below) has four different pricing tiers for its customers. What makes this a great Call to Action are the page view metrics and benefits of using the product surrounding the "Try It" CTA buttons. associated with each pricing tier. If the Pricing page only included the cost of using the product – without its benefits – users would be far less inclined to "try it".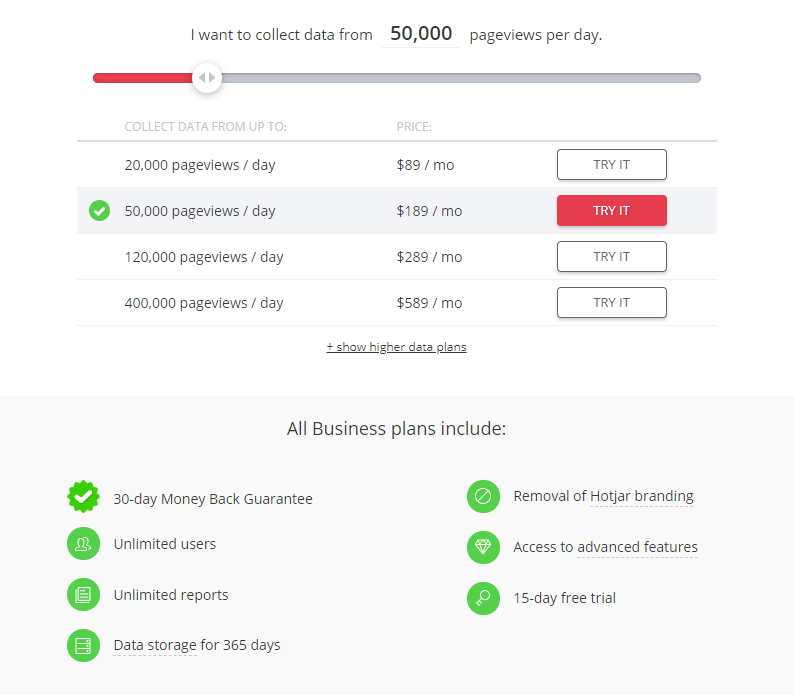 Sometimes, however, you want your visitors to take an action that requires little effort or commitment on their end. Emphasize that!
Tips for connecting action to value:
Describe benefit in two or three descriptive words (DO: "Shop with confidence." DON'T: "Don't worry about identity theft any longer.")
When possible, keep your actions simple (DO: "Just Click to Start your Free Trial"; DON'T: "Provide payment information to start your free trial")
If not, minimize or segment the steps involved (DO: "Learn how you can shop with confidence"; DON'T: "Get started on your way to worry-free shopping")
#3: How does it look?
Beyond making sure your message is actionable and value-driven, what else makes a Call to Action effective? As superficial as it might sound, in the CTA game, looks and size do matter.
Most experts recommend that CTA boxes or buttons be large and in charge of their page. Specifically, the successful CTA's are sometimes as wide as 2/3 of the page. Because bigger is (usually) better when it comes to CTA's, a well-designed landing page is often appropriate.
Litmus has a really great infographic on how to design an effective CTA.
If you've understood the value of incorporating Calls to Action, but are unsure how to implement these into your website Contact Us and start improving your conversion rates.
""