"Do you do SEO for Amazon?" "Do you have any experience marketing on Amazon?"
These questions are coming up more often from some of our clients, and I'm sure from some of yours as well.
People order from Amazon all the time. Myself included. If you're selling a product, you have to consider that it may be sold on Amazon. If it is, Prime 2-day shipping and Amazon's ability to rank in the search results immediately poses a threat to sales if you're not selling on Amazon.
Put your products on Amazon, and all of the sudden you're in the mix. You'll have the potential to rank on your own website and with Amazon on the first page. By adding some Google Ads and Social Media ads, you can go on a complete digital offensive for product exposure and sales.
I'm getting ahead of myself.
If you're selling products online and not including Amazon in your strategy, it could be what's hurting your sales. On top of that, your competitors may be taking advantage of your absence.
Let's learn a little bit about Amazon's algorithm and how you can optimize your product listings to rank higher, and sell more.
Amazon's Algorithm (A9/A10)
A9 is Amazon's most recent official announced algorithm. Amazon has its own search engine, just like Google, Bing, or any other. They want their search engine to provide the best results for the customer, and satisfy searcher queries (also just like the other search engines.)
So, when you perform a search on Amazon, the results are generated via the A9 algorithm. You can learn all about Amazon A9 on their site: https://www.a9.com/. A10 is said to have been rolled out, but it's unofficial and noted as very similar. Digging into it can help you get ahead of the curve, but we'll save that for another post.
The thing with Amazon is that it's product focused. There are ads, but they're either sponsored product ads, or display ads off to the side. A little bit less complex than having to deal with something like Google's: Organic Listings, Map Packs/Business Listings, Search Ads, Shopping Ads, and other search result features.
According to Single Grain, Amazon's Algorithm is focused on the following factors:
Text match relevancy
Availability of Stock
Price
More sales and sales vs. other competitor sellers
Product/Listing Optimization Tactics and Strategies
Optimization Based off of Common Sense
Before focusing specifically on algorithm elements, you can take a step back and look at what is most important by doing a typical product search (similar to SEO for Google search phrase/SERP research).Some of these elements are involved in or influence elements of the algorithm. I searched "men's slippers".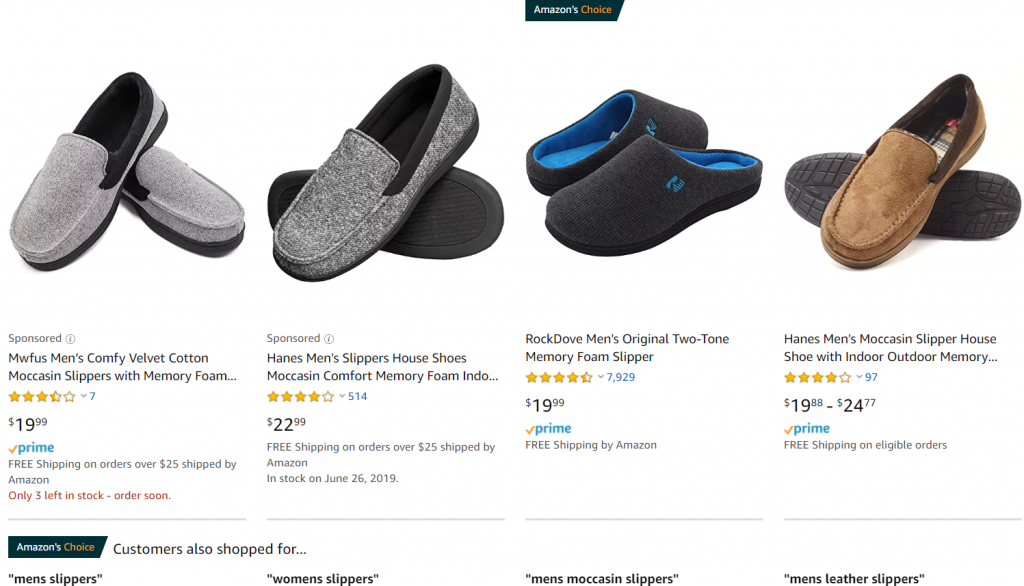 Some things that caught my eye:
Quality image
"Amazon's Choice"
Star Rating
Price (Range)
Saving's/Coupon
Amazon Prime or not
Sponsored Ads
Stock
Customer's Also Shopped For
If I'm listing Amazon products, those are going to be my primary considerations.
Images: Follow Amazon's requirements, and provide clean, clear images. The more images, the more reassurance for the prospective customer that this is the right product for them.
Amazon's Choice Badge: Amazon hasn't spoken much on how your products can get chosen for this. My thought and what other are speculating is that you must sell a lot of products, and it needs to have consistently great reviews. It's a confirmation that the products being sold are widely liked, and something they'll be confident putting towards the top of the search results. They've hinted at this too.
Star Rating: Sell a quality product, deliver quality customer service, respond to questions and comments. I don't purchase products with under 4 stars. It's important to make sure your products get reviews, and continue to bring them in.
Price (Range) + Saving's/Coupon: Make sure you have the price range or prices in place, and if you have a coupon/discount of some sort, that will also appear in the SERP's, highlighted above Prime. It really stands out
Amazon Prime or not: This is something many folks filter to make sure the product will ship in 2 days for free. It's part of what brought Amazon to be the Amazon it is today. I think that buyers have an association with prime and a trusted seller as well. Here's more information on setting prime up as a seller.
Stock: Keeping track is important for your business, but also shows users how many products are left. With certain products, the short supply could even encourage a quicker purchase process, and help you sell out.
Customer's Also Shopped For: Use this to your advantage for research. Utilize the "also shopped for" section and suggested searches in the search box to get a better idea of what you should target.
Optimization based off of the algorithm:
Text Match Relevancy: If you do a search on Amazon for men's size 12 black loafers, you'd probably be very happy if the search results in front of you all had that phrase or most of it in the product title. Amazon uses the text in your product listing to identify searches your product would be a great part of. Make it targeted based off of keyword research, assure users they've found what they've been looking for or at least a great option, and you'll be in a great position.
Availability of Stock: You need to have products in the fulfillment center, or indicate availability estimates. Think about it, why would Amazon list a product at the top of the results if it wasn't going to have stock for a while? It's not good for user-experience or their reputation.
Price: Price is important in numerous ways that stretch beyond Amazon. It has to be the right price for your target market, it has to be at the right price point versus competition. If folks' sort by lowest to highest, or highest to lowest, the way you are priced has an impact.
More Sales vs. Other Competitor Sales: Outperforming competitors in your space is indicative that your products are of high-quality. With Amazon if you are selling and getting great reviews, you can consistently grow product sales.
Amazon SEO in Summary
Amazon wants their users and prime members to be happy. Providing high quality products that generate great reviews makes them look good, and makes their users happy. That's why their search engine algorithm is based around these components, and the elements that influence them. Go above and beyond with Amazon's requirements, have responsive customer service, consider the user, and you'll have a much better opportunity to increase product sales.
If you have any experiences, you'd be willing to share, we'd love to hear about them in the comments!
Need help with Amazon SEO, or building it into your digital marketing strategy? We'd love to see if we can help your brand grow. Contact Us.
UPDATED:
I posted on LinkedIn about this blog post, and got some questions. If you have any more, please let me know and I'd be happy to answer the question and add to this post:
Is it possible to run your own paid media to your Amazon landing pages or is that against Amazon policy?

You can't. BUT, you can create a landing page with some of your product information, and then link to Amazon from there. So for example let's say you're selling Brita filters that fit any of their products. You can create a landing page with information on the filters, a photo, maybe your brand formatting, with a link to purchase that points to the Amazon product listing. This article does a great job elaborating on this: https://landingcube.com/traffic/amazon-adwords/

I know there are limitations on the contact info you have access to from customers that buy your items on Amazon. Obviously retaining your client base and having an opportunity to build loyalty and a relationship with your customers is ideal. What options are there here with Amazon. I know this access can be severely limited? Is there anything else you can do to increase engagement with your Amazon Customers?

This is a tough one. There aren't any clear answers online. I'm seeing a lot of "market materials prohibited" and discussion threads regarding the matter in the SERP's. When I think about this, I'm going to be paying close attention to the things I order on Amazon. As you can see in the blog post content above—Amazon wants good products to be sold that generate good reviews. I think this ultimately comes down to the product. Sell a great product, give great customer service as needed, and hope that folks will want to use your product again. If this is happening, you should be ranking higher in Amazon as well. I also think that running an ads campaign to a landing page, then to Amazon could be played to your advantage with retention. With the same example I noted above regarding Brita filters, you could include a newsletter signup, and encourage users to sign up by providing a x% off promo code that appears when someone enters their email, or is sent to their email. This gets you an email of at least a prospective buyer, and then you can start to build a list of Amazon buyers or prospective Amazon buyer emails. Those could be taken advantage of in numerous ways in time. You could also rework your product packaging to include some sort of copy that has a coupon code users could utilize on a future order, which would encourage them to make a future order.

What can and can't be included in shipped products?
If you decide to launch an Amazon store only (versus creating your own eCommerce website) what are you potentially missing out on? Should you ALWAYS have an eCommerce store AND an Amazon store? Or can you be successful only launching an Amazon store.

This is sort of answered in the post content above. If you have both, you have the opportunity to rank with your website, and your product on Amazon has the opportunity to rank. That's two places in the search results page. If you have an ad with a landing page, that could be a third. I think you can certainly be successful just using Amazon, but you can leverage Amazon and an eCommerce site to work together, and generate more exposure to your products. I think ultimately, this would be a case by case scenario. I personally think I would lean towards having both in many scenarios.
""