Understanding the optimal times to post on social media is a crucial aspect of any successful social media marketing strategy. After investing time and effort into creating a post, it can be discouraging to see little to no engagement. However, it's important to recognize that the day and time you choose to post can have a significant impact on your content's visibility and engagement.
Determining the best posting times isn't a straightforward task though, as each social media platform has unique peak periods. To simplify the process, we've gathered data from trusted sources such as HubSpot, Hootsuite, Shopify, and SocialPilot to create a user-friendly cheat sheet outlining the optimal times and days to post on various social networks.
By following our cheat sheet, you can increase the visibility and engagement of your business's content, ultimately leading to a more powerful social media presence.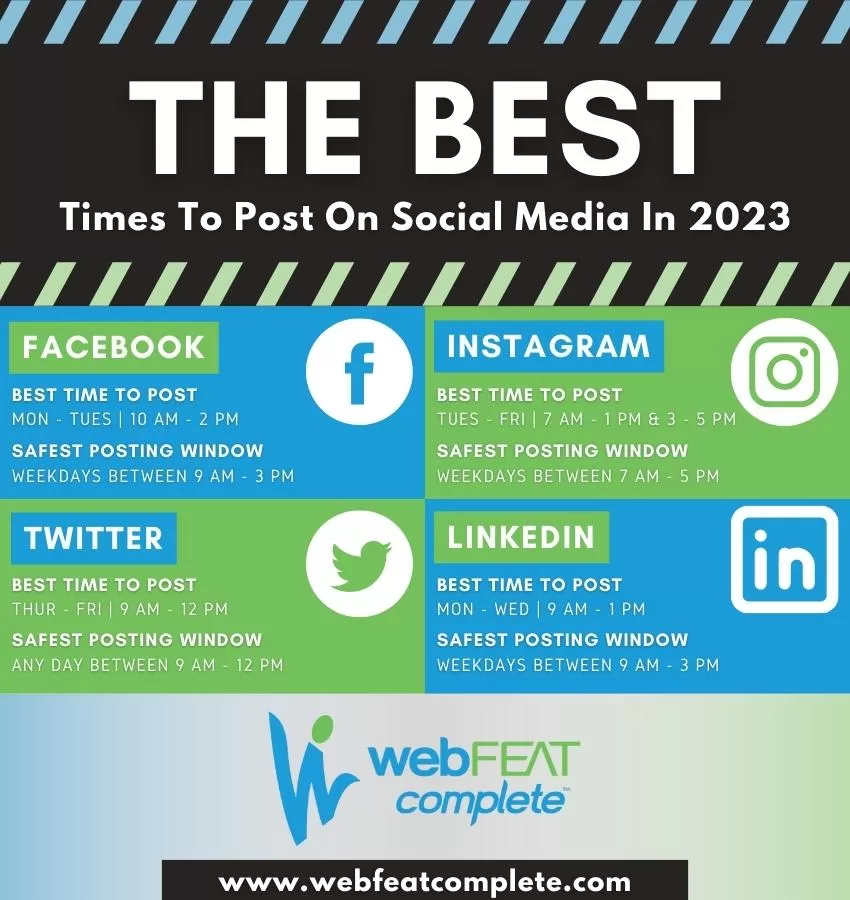 Best Time to Post on Facebook (Meta)
Overall, the best times to post on Facebook are Monday – Tuesday between 10 AM – 2 PM.
Safest times to post to Facebook: Weekdays between 9 AM – 3 PM.
The best times to post on Facebook are typically on Mondays and Tuesdays from 10 AM to 2 PM. During this time frame, people are more likely to be active on the platform, taking breaks from their work or studies to check their social media accounts. Additionally, posting during the first two days of the workweek can help your content stand out from the clutter of the weekend.
It's important to note that the optimal posting times can vary depending on your industry and target audience, so it's essential to monitor your engagement metrics to determine the best times to post for your brand.
Best Time to Post on Instagram
Overall, the best times to post on Instagram are Tuesday – Friday between 7 AM – 1 PM and 3 – 5 PM.
Safest times to post to Instagram: Weekdays between 7 AM – 5 PM.
Recency is a key ranking signal in Instagram's algorithm. This means that your audience's behavior plays a crucial role in determining the best times to post.
Studies from Shopify have shown that early morning posts are a great way to boost engagement, as most people wake up and check their phones before starting their day. Posting around 11:00 AM – 1:00 PM is another good time because it lies right before lunch break. And finally, 3 – 5 pm makes for another good posting time since it's towards the end of the work day, when a lot of people start to slack off and check their phones.
Best Time to Post on Twitter
Overall, the best times to post on Twitter are Thursday and Friday mornings between 9 AM – 12 PM.
Safest times to post to Twitter: Any day between 9 am – 12 pm.
According to research from HubSpot, 23% of marketers say that 9 AM – 12 PM is the best time to post on Twitter. The thought process behind why these posting times are best is because of Twitter's news focused timeline and the fact that the news has had the entire week to build up.
Thursdays and Fridays are also days where a lot of information comes out regarding sports, events, and other news, so it could be a great idea to piggyback off of those local or national events if you're a local business.
Best Time to Post on LinkedIn
Overall, the best times to post on LinkedIn are Monday – Wednesday between 9 AM – 1 PM.
Safest times to post to LinkedIn: Weekdays between 9 AM – 3 PM.
LinkedIn is a network full of professionals, so it makes sense that posting early in the week would result in the greatest level of engagement. Depending on your content strategy, you might want to post different forms of content at different hours.
According to Hootsuite, written content brings in better engagement during the mornings (think of it like news), while video content draws greater engagement during the afternoon. At the end of the day, it's up to you to, the marketer to analyze the best posting time for your business, as everyone's professional network varies greatly.
Conclusion
By following the suggested posting times on our cheat sheet, you can increase engagement and reach new audiences on social media. While these times have been statistically proven to receive the highest engagement, we recommend conducting your own tests to determine the optimal posting times for your specific brand. Use the suggested times as a starting point and gradually adjust and test posting times to see if you achieve better results.
Don't have enough time to test posting times yourself? webFEAT Complete can help! Our expert team of digital marketers have 24+ years of experience helping businesses of all types achieve greater online success! Contact us today to learn more about how we can help your business grow on social media!
""