Knowing the perfect times to post on social media is a crucial step in the social media marketing process. Let's say you've worked really hard crafting this beautiful post, whether it be a photo, video, or other form of content. And now you are ready to send it out to the world to see only to be hit with a big fat zero in the post engagement field. You may start to think that the post wasn't that good after all when in reality the culprit of your low engagement may actually be the day and time you posted your content.
So, when are you supposed to post then? Well, it's not exactly that easy. You see, every social media network has different days and different times that are best. So, using a combination of data taken from QuickSprout, Buffer, TrackMaven, Fast Company, and KISSmetrics we've developed an easy to follow schedule on what times and days you should focus on. Below is a combination of that data taken for each social network.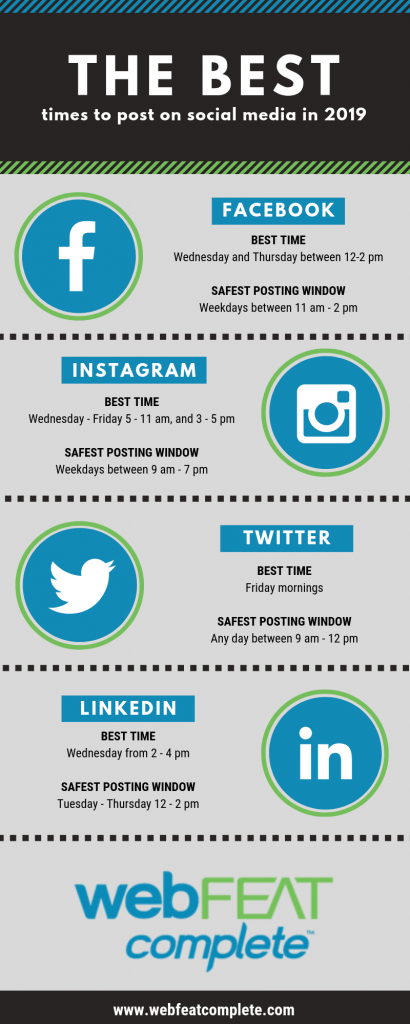 Best Time to Post on Facebook
Overall the best times to post on Facebook are Wednesday and Thursday between 12-2 pm.
The reason behind why these days and times are best can be tracked explained easily. Wednesday and Thursday are mid to late in the week when people are starting to see the weekend ahead of them. It's also around the time of most lunch breaks allowing for added free time during the day. Conversely, Saturday and Sunday are not good days for Facebook because people are out and about and aren't engaging as much with  your page.
Safest times to post to Facebook: Weekdays between 11 am – 2 pm.
Best Time to Post on Instagram
Overall, the best times to post on Instagram are Wednesday – Friday 5 – 11 am, and 3 – 5 pm.
Studies have found that five in the morning is a great time to have a post sent out because it is just before when a lot of people are waking up and roll over to check their phones. 11:00 am is another good time because it is just before a lot of lunch breaks. And 3 – 5 pm is a great time because it's towards the end of the work day when a lot of people are starting to slack off a little bit.
Safest times to post to Instagram: Weekdays between 9 am – 7 pm.
Best Time to Post on Twitter
Overall, the best times to post on Twitter are Friday mornings.
The thought process behind why this is the best time is because of Twitter's news focused timeline the news has had the full week to build up and thus culminates on Friday's when people are checking in to see what is going on. This is also why some of the higher engagement rates can be seen trickling into Saturday mornings. Friday is also a day when a lot of information comes out regarding the weekend's sports events so it could be a great idea to piggyback off of those local or national events if you're a local business.
Safest times to post to Twitter: Any day between 9 am – 12 pm.
Best Time to Post on LinkedIn
Overall, the best times to post on LinkedIn is Wednesday from 2 – 4 pm.
LinkedIn is a network full of professionals thus it makes sense that a weekday receives the most engagement on the platform. Unfortunately LinkedIn's data varies greatly and it's hard to pin down the EXACT best time but for the most part it is that midweek, mid-day time slot.
Safest times to post to LinkedIn: Tuesday – Thursday 12 – 2 pm.
Conclusion
Using this cheat sheet should help your social media posts perform better and receive more engagement from your audience and even potentially help you reach new audiences. While these are statistically the times and days that receive the highest engagements it's still important to do your own testing to see what works best for you. Use these times as a starting point and then do some testing slowly to see if you get better results at slightly different times. At webFEAT Complete we've found this data collected to be very beneficial and we try to stick to these times as best we can because it gives us the best results. Now that you know when to post on your channels it's time to go send that beautiful post and start seeing all the engagement that it deserves!