The visual vs. text content debate is a tale as old as time. Okay, it's at least 5 years old, and there is a general consensus, but it is a heavily discussed topic in the digital marketing world. With the emergence of social media and the overwhelming shift towards online platforms, it is more and more important to truly understand the content your audience is seeking so that you can ensure your content stands out in the crowd.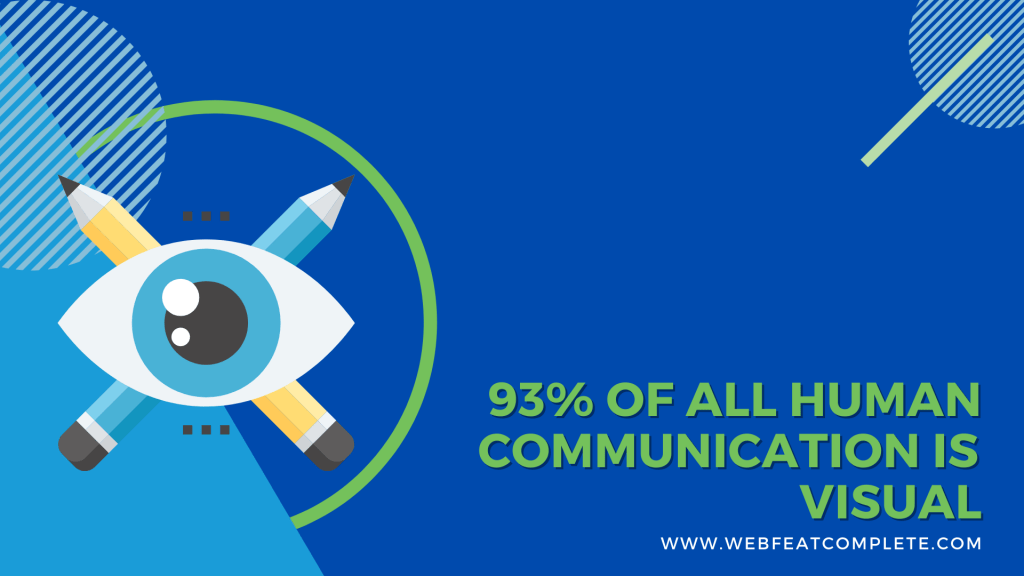 I mentioned a general consensus over which content form is better, and the answer is, overwhelmingly, visual content. In a world where 93% of all human communication is visual, it is important to cater your content to that trend and ensure you are giving your audience content they can connect with. We live in the age of skimming- most people don't read all of the content presented to them, they skim it to find the information that stands out the most. Visual content is not only a great way to make sure your important information stands out, but it's also proven to be faster and easier for the human eye to read and understand. 
While the visual medium proves to be the best content for your audience, it's important that visual content works together with plain text content to achieve the best overall results. Both content mediums need to be created with best practices in mind, and they also need to mesh with each other in order to be able to tell the full story.  
What makes visual content so impactful?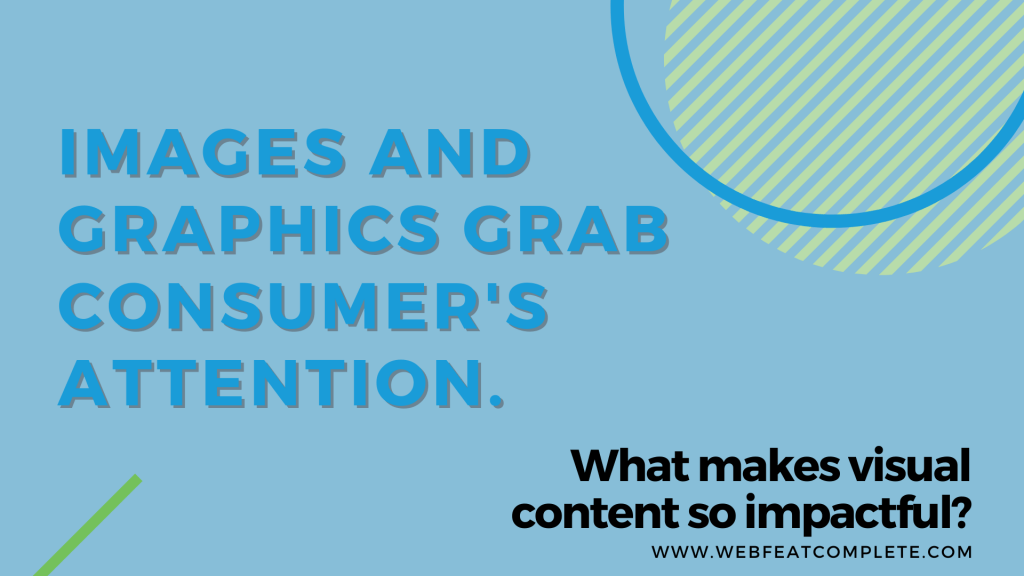 Visual content is the leader in the race for consumer's attention. It helps your content to stand out from the oceans of other content pieces and can make or break the success of what you're trying to share. To truly understand how to create great visual content, it's important to first understand why this content form is so impactful because that will guide how you make your visuals.
Images and graphics grab consumer's attention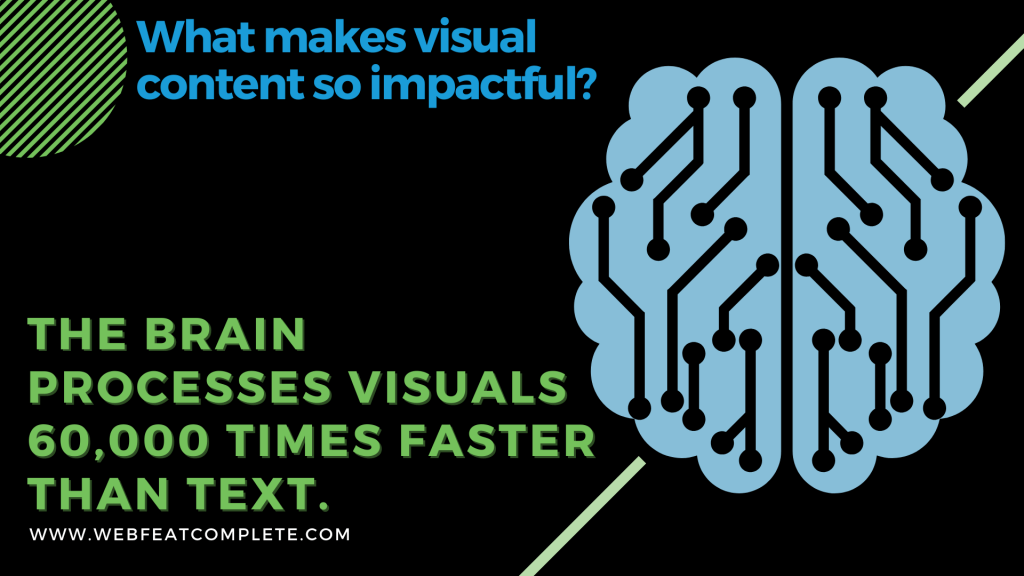 Think about what happens as you scroll through a web page or article. The pretty colors and eye-catching graphics are usually what capture your attention first. Because we have such a short attention span, it is essential to include elements that can grab a user's attention quickly and effectively. Scientific studies show that human eyes process visuals 60,000 times faster than text, making it easier to grab the reader's attention with an image.
The brain processes images differently – and faster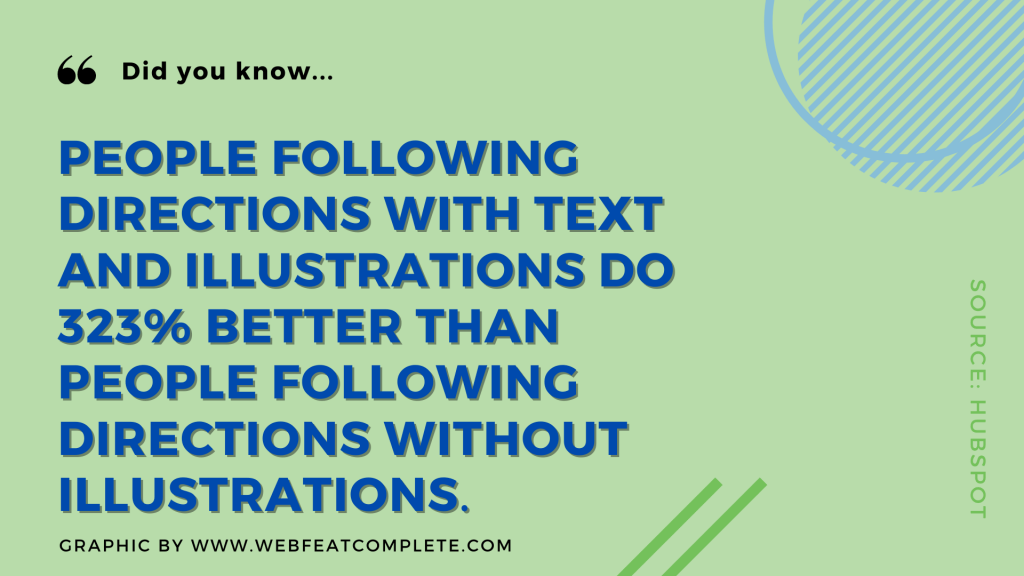 Studies show that it takes only 13 milliseconds for the human brain to process an image, much faster than processing text. The brain will also continue to process the image seen in the background after the user scrolls to the next section on a page. This speedy processing speed helps users to better comprehend the point you're making in your content; based on a report done by HubSpot, people following directions with text and illustrations do 323% better than people following directions without illustrations. The ability to process images more quickly also allows the easier ability for users to scan your content.
Visual content is more memorable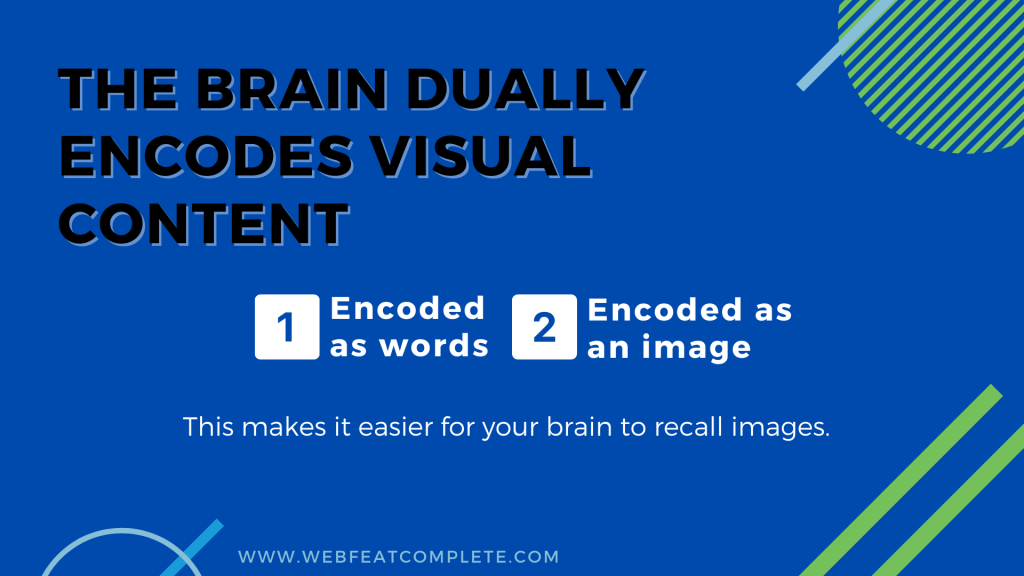 When your brain stores an image in your memory, it is what scientists refer to as "dually encoded". This means that the image is stored in your memory once as an image, and then again as a word. This process leads scientists to believe that it is easier for your brain to recall your memory of images than it is to recall the memory of words because words are only stored in your brain once. By using images to grab your viewer's attention, you're also ensuring a better chance that they retain the information you're presenting to them.
Your audience is more likely to share images than plain text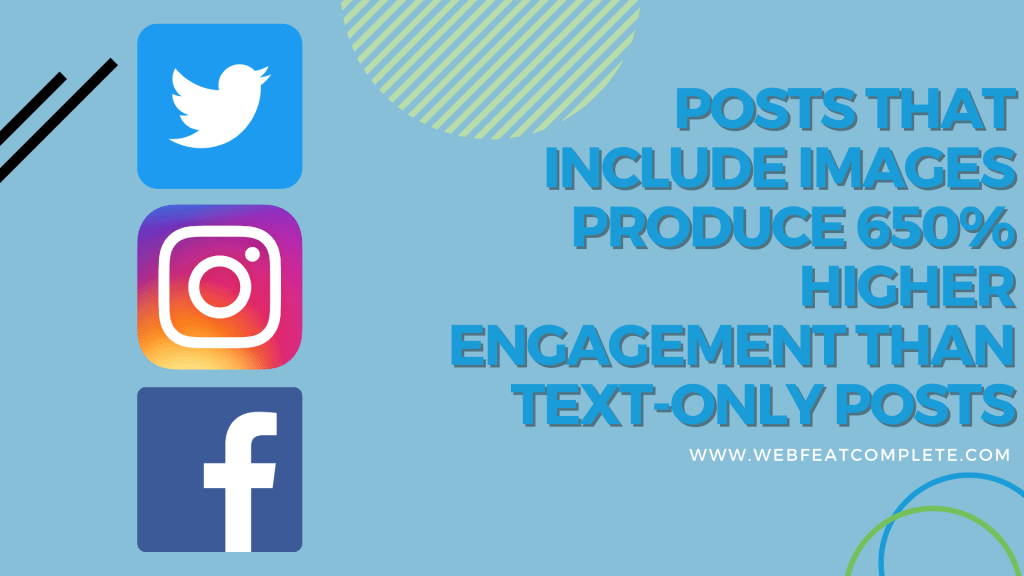 If your content includes an image, it is more likely that people who view it will be willing to share it with their audience of followers. Studies show posts that include images produce 650% higher engagement than text-only posts. When people share your images, that expands the reach you achieve with that content into everyone connected to their network. Be sure to check out our blog post detailing how to optimize the content you create to make it more enticing for people to share it. 
Places you should seek to include images in your digital marketing:
Okay but actually, here's a few examples:
Website

Content pages – Focus on people imagery

Blog posts – supporting imagery for the post

Social media

This is a no-brainer for platforms that require images to post (Instagram, Pinterest). Many studies also show that posts on other platforms like Facebook and Twitter perform better when they are shared with a corresponding image.

Email marketing

Use the images in moderation. Be careful to include alt text for the images so they have a description of it. This is helpful in case the recipient's hosting server blocks images.
Image content best practices
The world of creating, publishing, and sharing image-based content brings great opportunities for digital marketers. It is essential to adhere to a few best practices to ensure the success of that content.
1.) Focus on accessibility
It's important to be sure that your digital content is accessible to everyone. This means optimizing the size and quality for the specific platform it's posted on. It also ensures your images/supporting content is ADA compliant. If someone with a screen reader attempts to view an image you posted, it needs to include descriptive alt text so that the user can still get value from the image. Be sure to check out our post on ADA compliance for social media to be sure your platforms are accessible.
2.) Create simple, uncluttered graphics
The point of using images is to stand out and be memorable, but it's hard to be memorable if the reader cannot understand the point of your image. Make sure it is uncluttered and as simple as possible to make the most impact on your content.
3.) Save the base files to easily edit as information changes
Information in the digital marketing world is constantly evolving with new trends and statistics. If you are sharing image-based content like infographics, be sure to save the base files in a safe location. That way, you can update the information presented in the infographic regularly as data changes. 
Why is plain text content still important?
I already established why visual content is the most popular form of content for consumers. However, plain text content is still relevant and essential for success. Your website can't be 20 pages full of images with no descriptions or necessary information. A website like that likely won't drive any leads for your business. Some of the benefits of plain text content are as follows:
Plain text content can benefit the SEO of your website
It is important to use plain text content in conjunction with images to adhere to SEO standards. Image use is great and has SEO ranking capabilities, but having supplemental text can improve your use of keywords and increase your chances of appearing in featured snippets in Google searches. 
Plain text content helps you to elaborate on images
You want to keep your imagery as concise and uncluttered as possible. Using plain text content can allow you to elaborate on the message you are trying to send with that image. You can further expand on your information, provide sources of information, and tell the story that the image starts to paint. 
It allows the opportunity to make your content more accessible
Accessibility for all users is so important. Not all users are able to experience the full value of image-based content. By supplementing the images with text explanations and further elaborating, you give those users the opportunity to understand and digest all the information you are providing to them.
If you're looking for help building and implementing a content marketing strategy, our team would love to help. Reach out today for a quote and we'll get the ball rolling on your amazing content!
""