Would you rather listen to a podcast about this? Check it out!
E-commerce is consistently on the rise and Google's search results are becoming more and more competitive. Given the world's current situation, businesses of all sizes are beginning to understand the value of a digital strategy and are making substantial investments in e-commerce SEO. Those who have an e-commerce store are surviving, and in some cases, thriving more than ever before due to the increase in online shopping. Competing with Amazon, Ebay, and large retailers within your industry can be tough but with a well-developed website and strong SEO it is very possible to have your store ranking on page 1 and 2 of Google. With that in mind, let's discuss how you can begin improving your appearance in the search results with the following e-commerce SEO tips.
Setup Google Analytics and Search Console Data Tracking Software
The first step for any business with a website is to ensure you have data tracking tools setup. The most common free software is Google Analytics. For e-commerce businesses, this is an essential step. There are many uses for web analytics, but for e-commerce especially, you can leverage your data to make design and user experience improvements, understand what pages lead to conversions and what pages make users bounce from your site, and so much more. You will also want to setup Google Search Console to quickly view high level metrics of your website such as top performing pages, overall web traffic, and broken pages needing attention on your website. Once you have these setup, you can better understand how your SEO strategy is impacting your website's performance.
Focus on Long Tail Keywords
When you first launch a fresh e-commerce website, it can be difficult to achieve organic results right from the start. There are likely many competitors out there with years of built up SEO authority, backlinks, and quality content that can make it tough to compete. A common tip for generating website traffic for a new website is to target long-tail, specific keyword phrases. Although these keywords don't have nearly the amount of search volume broad keywords have, there is far less competition and often times these longer keywords end up converting better than broad phrases.
Example
Let's pretend we are an online music store who sells custom guitars. Large companies like Guitar Center, Fender, and Sweetwater will likely be taking up the SERP real estate for keywords like "guitars" or "acoustic guitars for sale", but what about a phrase like "custom guitars built with maple". Below are two screenshots of the Google search results using two different keyword phrases. The first thing to point out is that "custom guitars built with maple" has 4.86 million results while "guitars for sale" has over 1.1 billion results! That is a huge difference and really helps us understand the value of long-tail keywords. Another observation is that "custom guitars built with maple" has a different landscape showcasing videos, images, shopping ads, and people also ask snippets which presents a ton of different content ideas that could help your website rank.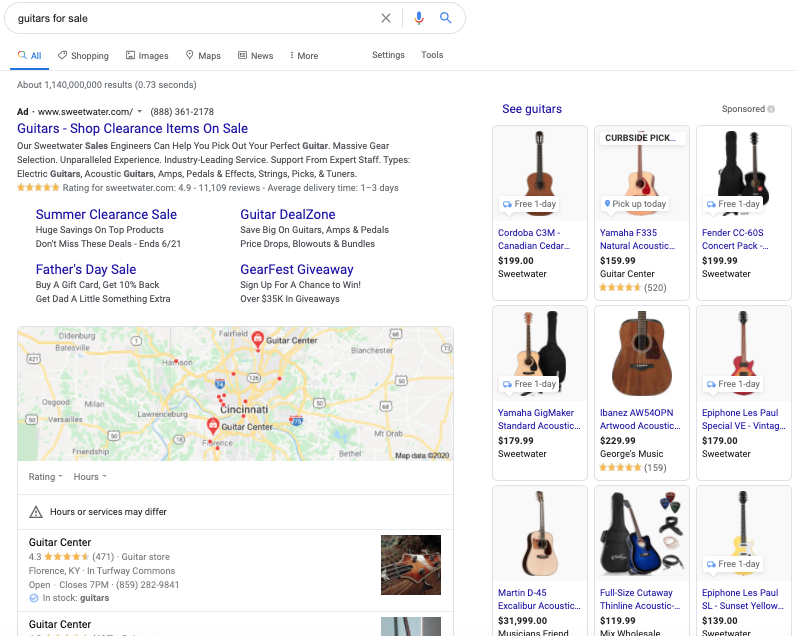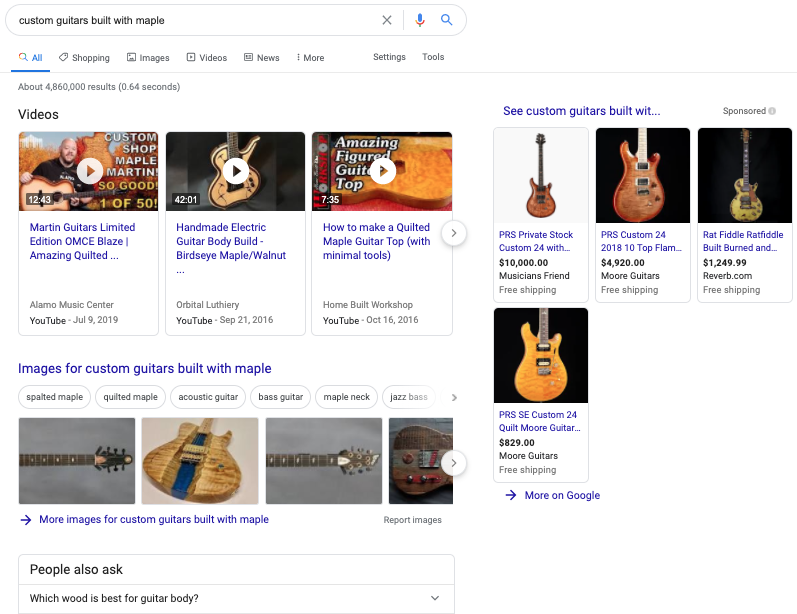 In summary, conduct research on your industry, competition, and products. This will help you better understand what keywords should be included in your product page titles, descriptions, and web copy. Odds are, there is a long-tail keyword not many people have tapped into that could really improve your website's traffic and overall sales.
Image Optimization – Image Size, ALT Tags, and Quality
Image optimization for e-commerce is a huge opportunity many business owners don't think about. This is a rather large topic but I'd like to focus on three areas: image size, ALT tags, and quality.
Image Size
Images play a huge part in your website's speed and load times which happens to be an important metric Google uses when deciding which pages will earn a spot on page 1 or 2 of the search results. This is mostly because load times have a strong correlation to user bounce rate. The longer someone has to wait for a page to load, the more likely they are to leave your site and visit a competitor's page instead. The more products you have on your website, the more crucial image size becomes. Rarely is it necessary for you to upload images greater than 1000 x 1000 on your product pages. Take some time to review your website and downsize your images so that customers can still view products easily. 
Tip: You can quickly see the dimensions of photos being used on your website by right clicking on an image, selecting "inspect", and scrolling over the image URL.
ALT Tags
ALT Tags have become a buzzword in the SEO industry as of late because they help a website stay in accordance with ADA Compliance, but there is another huge opportunity when you take the time to create ALT tags for all of your images. We've all looked up a product on Google and ventured to the image results to better understand our options. ALT Tags help product images appear in this section of Google as they inform Google what an image is about and help your products appear in Google images when someone uses keywords included in your ALT tags.
Quality
In a way, this is a no-brainer, but there are so many websites out there using product images taken with an old iPhone or digital camera that don't meet the standards of the modern day consumer. Invest in a professional photographer or upgrade your camera, create appealing backdrops, and give the first impression your products deserve. The digital world is competitive and every bit of extra effort will ultimately help your website's success.
Up Next: Ecommerce SEO Guide Part 2
In the next rendition of our E-commerce SEO Guide we will be touching on the topics of URL Structure, Strategic Linking, and Backlinks. All equally, if not more important than the topics mentioned in Part 1. Be sure to subscribe to our newsletter and Get in Touch with us about your e-commerce questions.
""