It seems like every day the Facebook algorithm changes which affects business Pages either for the worse or for the better. While Facebook will never detail EVERY change to its algorithm they do make public the major changes that would affect your posts being seen by people in their News Feed. Below is a timeline of some of the major changes that would affect your page and some best practices you should pay attention to to help maximize your reach. Make sure and check back routinely to see what else has changed as we will update this post as more updates are made. This is just the changes made over the last year – so you can see Facebook updates their algorithm at a rapid, rapid pace which is why it's important to always be on top of the them.
We are aware that having to keep track of all of these updates seems like it would be a full-time job in and of itself. And we agree – which is why we have a team that DOES keep track of these things and uses this knowledge to manage your Facebook page for optimal reach. To learn more about how we can help manage your social media business accounts visit us here and we'll give you a consultation on all of our options and what we feel would benefit you most.
First however, if you want to take a look at the very basics of how Facebook's News Feed works you can watch this video from the Facebook Developer team.
2023 Facebook Algorithm Updates
August 2023
Prioritizing Engagement 
As of August 2023, Facebook's algorithm centers around personalized content delivery, prioritizing user engagement. The algorithm is designed to spotlight relevant content from connected people, brands, and groups.
Over the years Facebook's algorithm has evolved to align with platform growth and user preferences. Now AI-driven, it aims to deliver valuable personalized content.
In order to get the most out of your Facebook posts, we recommend the following:
Use visual media: If you haven't noticed by now, visual media such as images and videos tend to drive more engagement on Facebook. Make sure you are uploading high-quality pictures and videos that are relevant to your brand and audience.
Use interactive features: Consider using polls, quizzes, and live videos at appropriate times to increase audience engagement. However, make sure not to post too much interactive content, as Facebook's algorithm tends to "flag" accounts that do so.
Post regularly at optimized times: To keep your target audience engaged, you'll want to make sure you are posting to your page regularly. However, in some cases, too much posting can lead to a drop in engagement. Use Facebook's Insights to determine when your audience is most active and schedule your posts accordingly.
Analyze your data: Facebook Insights will help you track the performance of your content and determine which types of content resonate best with your audience. Over time, you can use this information to optimize your content strategy.
Test and experiment: Don't be afraid to try new things and experiment with different types of content and posting strategies. As Facebook continues to add new tools and features, it is encouraged that you use them to your advantage.
2021 Facebook Algorithm Updates
June 2021
Facebook's AI Text detection takes a huge step forward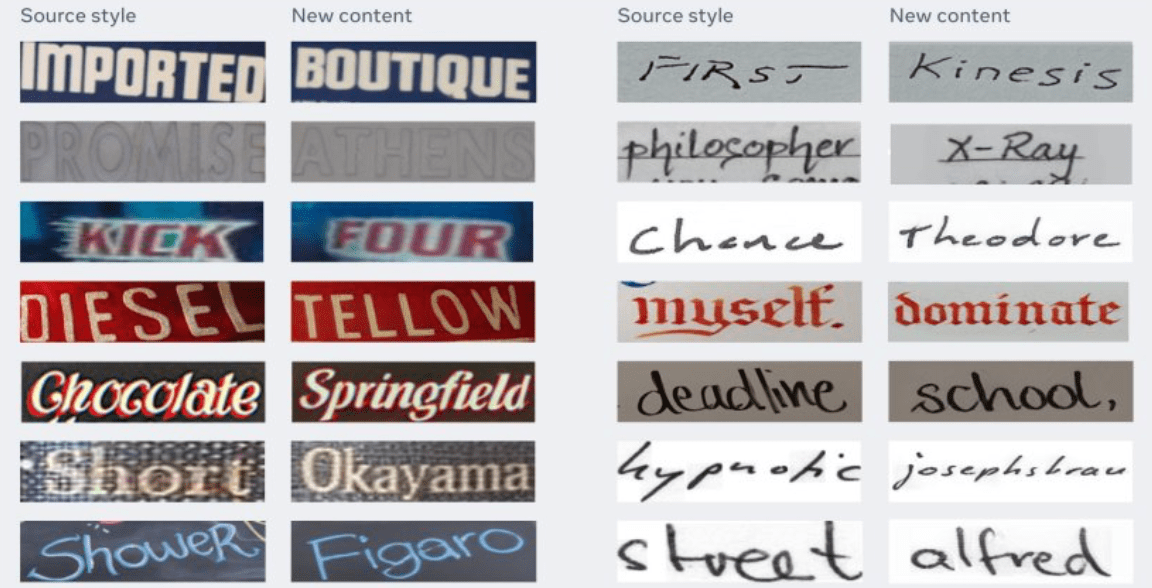 Facebook, and for that matter most other technology companies, AI has already been pretty good about being able to recognize everyday objects, people, animals, etc inside of photos and videos. Text, on the other hand, has been a bit harder for them to perfect. However, Facebook may be getting closer to that ultimate goal with their new TextStyleBrush update.
TextStyleBrush is a cool new use of their AI tech. What it does is to essentially copy the text, both font and style, in an uploaded image and then be able to automagically recreate that font and text. So, not only is Facebook confident in their ability to read text inside of images, which on its own provides invaluable opportunity for social SEO advancements, but they've taken it a step further and can actually recreate that fonts style. This could provide new ways for your business to be found in Facebook search. For example, if a restaurant posts a photo of their menu to their page, if Facebook can now read that menu, any time a user types in, for example "Nepalese Momo's near me", your page would have a greater chance of showing up.
Not only that. As pictured above, Facebook can even output that recognized text and font giving you the ability to match your businesses specific brand look and feel for use in other marketing materials. Pretty cool!
March 2021
(Re)introduction of the feed filter bar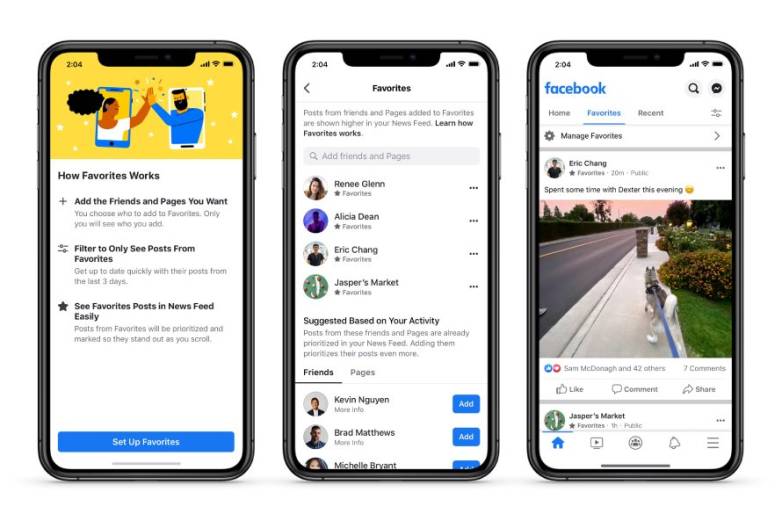 Back in the good ol' days Facebook posts were organized chronologically relative to the time they were posted. This method of sorting posts has long since been overtaken by the algorithmically sorted feed we see today on not only Facebook but most other social media platforms as well. It's Facebook's way of deciding what you want to see most and they've been steadfast in their insistence on this being the best way to serve you your feed.
Well, Facebook has finally budged in this stance… a bit.
Facebook recently (re)introduced the ability to sort your news feed chronologically and/or algorithmically by placing a toggle between the two. What this means for your business is the time you post content could start to play a larger role in getting your updates seen. For example, if you're a restaurant trying to entice users to order dinner you may want to wait to post your content until towards the end of the work day when everyone has food on their mind and deciding what they're going to do for supper.
Update July 2021: Since introducing this ability Facebook has shown their true colors on what their thoughts toward people using this feature are. They have continued to bury this toggle further and further into the settings almost to point of hiding it completely. For example, on the mobile app, to activate this feature you have to first click on settings, then scroll all the way down to the 32nd menu item inside of the settings tab. This essentially renders this feature invisible to the average user and until this is brought back to the forefront it's not something you should base your posting strategy around.
January 2021
Facebook's major ranking signals clarified
For all that is the Facebook algorithm and for as useful as it is to know how content is ranked there is really only two segments of that algorithm that you, as the user, can actual control. And those are called Active and Passive signals.
Passive refers to anything the involves views, view time, story types and / or the time something was posted. While Active are what they sound like, actions taken by uses such as engagements, shares and comments.
Facebook considers Active signals as the more important ranking signal which means these are what you should focus on.
According to AdEspresso, here are the most important, major ranking signals you should keep in mind:
Engagement
User comments and likes; Engagements with any Page content shared by your friends; Shares on Facebook Messenger and Replies to comments on videos
Relationships
Who users are interacting with; The poster of the content; The business pages profile total percent complete and Interactions between different people (however interactions between people a page carries less weight)
Content type
The type of post (ex: video, link, image), How informative the content is and the total time spent on a post
Recency
Newer posts are shown first, Time when it was posted in relation to what time is it now and the Technology involved (ex: what type of phone, internet connection, etc)
If you only have time to focus on a few of the Facebook algorithm ranking signals these are suggested as they are widely considered to be  more "meaningful":
A person shares a link on Facebook Messenger, There are multiple replies to user comments on a video, Comments or likes on a users photo or status updates and Total engagement with a publishers post that is shared by friends
Predictions
POV: you searched "Reds hats" once and now your feed is flooded with updates that have to do with the Cincinnati Reds. This is how predictions work across Facebook (and Instagram).
2020 Facebook Algorithm Updates
September 2020
The first warning to advertisers regarding iOS 14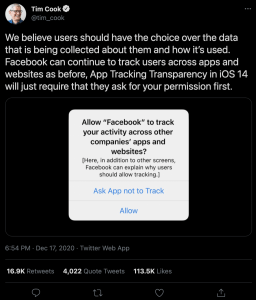 We aren't going to go into detail regarding this topic only because it would take up too much space and time in this blog post. Instead, we've written an entirely new post on Apple's iOS 14 update with regards to advertising, privacy, SEO and how it affects your business. Read Karly's post talking all about this HUGE update. Long story short. Advertisers may have to find other creative ways to maximize the full potential of their advertising dollars.
August 2020
Huge upgrades in Facebook's ability to recognize low-quality content
This algorithm update is really more of an upgrade to Facebook's core algorithm ranking factors. Facebook has made great advancements in their ability to recognize low-quality content. This content includes: click bait, engagement-bait, bad website experiences (slow, not mobile, spammy, etc), fake news, etc.
Bottom line: More of the same here. Don't bait your users. Share high-quality content that is organic and natural in nature. Oh, and also make sure your website is in order and provides a great experience for users.
2019 Facebook Algorithm Updates
October 2019
A crackdown on spammy and biased content
Previous algorithm updates addressed the rising issue with clickbait content or linking to low-quality website experiences. This update is more of an advancement and upgrade in their ability to recognize this type of content. They can recognize "clickbait-ness" by analyzing the headlines of a link and determining if it is "exaggerating or withholding information". An example of this would be a link to a post titled "Man loses 100 pounds by eating this one food!" because it is exaggerating that one food can help you lose 100 pounds but it doesn't reveal what that item is.
Updates for engagement bait have been implemented as well. And example of engagement bait is something like telling a user to like or share with someone to be entered to win a prize.
Bottom line: Don't bait your users in an attempt to game the algorithm. Be transparent, organic and engaging naturally to get the best results.
May 2019
"Loyalty" a new ranking factor for videos along with other updates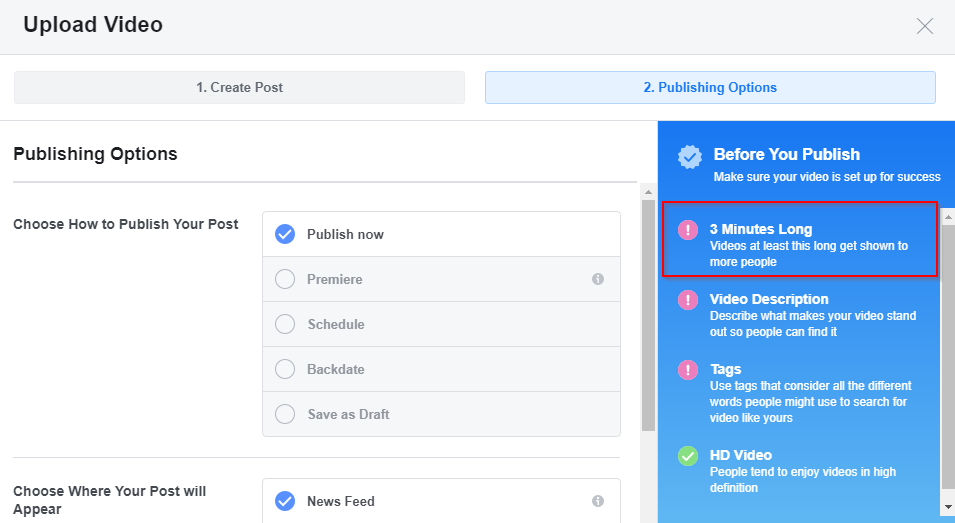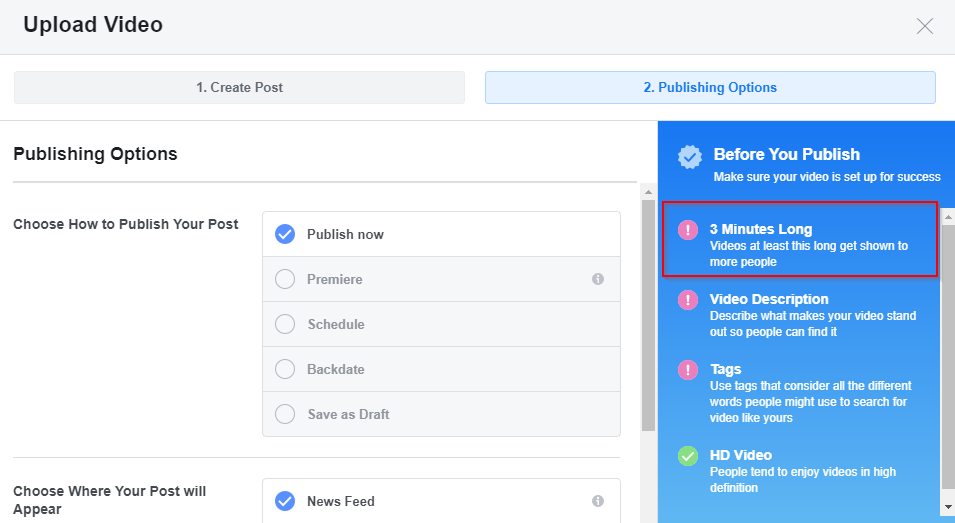 Facebook has been pushing video on the platform for years now so any change or update to the way videos are displayed across Facebook shouldn't come as a surprise. A series of algorithm updates are affecting the way videos are being ranked in your News Feed. It's also affecting the recommended videos shown in the video player with the goal to serve more relevant content to users.
The new ranking factor is based on a users "loyalty" and "intent", meaning that a video that is being searched for often and that has users returning to time and time again will be given a higher priority.
Another critical ranking factor is view time. For now, the view time of your video on average should be at least one minute to garner favor from the ranking overlords. Facebook already suggests that any video posted on Facebook be at least 3 minutes long so this is just another shift to keeping users on site longer and longer.
And lastly, videos that are reposted from other channels will be demoted in the algorithm. This is in an effort to curb unoriginal content on the social network.
Bottom Line: Focus on original, long form, engaging and ever green video content to make sure your video reaches the maximum number of users.
March 2019
Changes to how a Page's impressions are measured for organic posts
It's unclear how this will look however it is clear that the way Facebook is measuring impressions has been updated to align more closely with how ads count impressions.
Bottom Line: In the end, it's just another blow to organic reach within the Facebook platform meaning businesses are more and more needing to shift to paid promotional content to reach their audiences.
2018 Facebook Algorithm Updates
January 2018
Emphasizing more "meaningful" posts.
Changes to the algorithm will now start to show more posts from friends and family, especially ones that spark more conversations. This means that Facebook will slowly start to show less public content from pages and publishers. The biggest post form to take a hit? Short form videos with stock video that Facebook considers "passive". You've probably seen these videos. Basically short videos with text overlayed telling you a news story. The goal is to come back to what Facebook started as. A social network for friends and family.
While there will be less content from pages and media if you're page is sharing content that Facebook deems "meaningful" and "conversational" it will still get shown to your audience. If it's a post that they deem isn't meaningful or conversational it will be seen less.
Bottom Line: Gone are the days of posting to Facebook just to post. Your posts need serious thought now because if it isn't something people are going to engage in, it won't get shown at all.
2017 Facebook Algorithm Updates
December 2017
Harsher penalization's for posts that are considered "engagement bait".
Gone are the days (hopefully) of fishing for likes, shares or comments. This recent Facebook algorithm update looks to quell "engagement bait" tactics. They explain these posts as ones that are encouraging users with "artificially boosted engagement". An example of post like this would be a posts that says "Share this post if you love our donuts!" They are also demoting posts even further for pages that continue to abuse this tactic on a routine basis. They've analyzed thousands of posts and say they are able to differentiate between spam posts and those of an emergency, say a post that is asking to share to spread the word about a missing child, or a charitable foundation.
Bottom Line: Gone are the days of encouraging you fans to like your post. You'll just have to get those likes that old fashioned way. Organically.
August 2017
Web pages that load faster get priority in the news feed
That's right. Now there is even more reason to get your website into shape. Just like Google does, the Facebook algorithm now gives speedy websites priority in the News Feed. This further solidifies the relationship between web design, SEO, and social as an all encompassing digital marketing effort. Each one plays a role and each one is vitally important. It's also an effort from Facebook to get you to start using Facebook Instant Articles – which, credit to them, are extremely fast.
Bottom Line: If your website takes longer than a couple seconds to load Facebook is going to penalize you.
A crack down on false news
Fake news is a huge problem not only on Facebook but on the internet in general. It's a huge problem that needs remedied and Facebook is constantly implementing things to help combat it. First and foremost Facebook is blocking pages that share fake news from buying Ads. In the hopes that it will slow the spread of these stories. They are removed the ability to edit your links Meta information (title, description). This was being taken advantage of from pages that were changing these descriptors to things that had nothing to do with the actual story in the hopes that they would entice someone to click through.
Bottom Line: Eh, don't share fake news 😉
Video clickbait
People started to get very clever (or so they thought) with click-bait. They would create an image that looked like it was a video so when a user would click on it they would be brought to a certain webpage instead of what they expected to be a video playing. These posts now get pushed way down the News Feed and if they are especially egregious – not even in the feed at all.
Bottom Line: Don't try and trick Facebook or the user. Not only will your posts not get seen but it also ruins your credibility.
May 2017
Click-bait Headlines
Click-bait headlines are now being penalized.
Example:
"When she opened up her McDonald's bag she found THIS…"
"This special superfood can make you look 20 years younger. You HAVE to see this!"
This is all just part of the effort on Facebook's part to try and make Facebook more of an informed community.
Bottom Line: Write copy that clearly informs a reader what they can expect to read about. You'll find more quality readers as a result.
Low quality webpage experience
As with traditional Google AdWords, pages that have low quality experiences will be penalized for it. Specifically webpages that have little substantive content and websites that have a large number of "disruptive, shocking, or malicious ads.
Bottom Line: Make sure your website is giving users the best experience possible. Having an up-to-date site that is fast, has relevant content, and a user friendly experience is crucial for SEO and now crucial for social media.
March 2017
Reactions weigh more than likes
Facebook reactions were released a little over a year ago and they have found out a lot of useful information about them. For example, they've found that when a person uses one of the other reactions besides a standard "Like" indicates that they are more interested in that post. So a "love", "cry" etc means they are more invested in that post thus it will move up the News Feed as a result.
Bottom Line: Post things that evoke an emotional reaction to your fans. This results in a "reaction" over a "like" and will help more people see that post.
January 2017
Video prioritized based on completion rate
Not only are videos prioritized but they'll be boosted even more based on the video completion percentage. Facebook feels that if more people are watching the full video, or most of a video, it means it must be quality. Which means they will show it to more people. This doesn't mean post 10 second videos. In actuality longer videos that get watched more are the biggest benefactors of this prioritization.
Bottom Line: Post videos that people want to watch. Behind the scenes stuff, tutorials, interviews all work especially well.
Video prioritized over other types of post
Facebook is making a big push into video thus they are rewarding pages that post videos over other types of post. Videos also get recommended on other videos after completion which is an added avenue for your videos to get discovered.
Bottom Line: Post videos. They don't need to be Hollywood Production quality. Couple minute videos help keep a fan engaged and give more personality to a page (along with being prioritized by the Facebook algorithm).
2016 Facebook Algorithm Updates
August 2016
Personally informative stories matter
People obviously enjoy stories that are more informative to them personally so Facebook is trying to predict which story you would enjoy the most based on your actions within Facebook. If the subject matter is based on a person's interest, if it engages a broad audience, or if it contains news relevant to them they are more likely to see it in their feed.
Bottom Line: You need to be making an effort to share things you think your audience will enjoy if you want to maximize your reach.
""