For any of you that are used to using the existing/previous Google Analytics platform like me, it's safe to say this transition has been a major pain.
GA4 has completely overhauled the way GA has setup, and there is definitely a learning curve. Having said that, I'm sure once we're all versed in GA4 it will be a big improvement. But we need to understand it first!
The intent of this blog is for us to learn together. We'll go through transitioning from old to new, setting up a new GA4, and working through some important features. If you have a question, leave it in the comments! I'm hopeful it will become a helpful resource to many.
Setting up a New GA4/GTM
For the initial setup, it's pretty much the same. Answering some simple questions, some optional questions for Google, time zone, URL, etc.
You can install it with a normal tracking code, or via Google Tag Manager.
Instead of creating a UA ID, you'll get a Measurement ID and Stream ID.
Enhanced measurement options (Scrolls, outbound clicks, site search, video engagement, file downloads are built-in.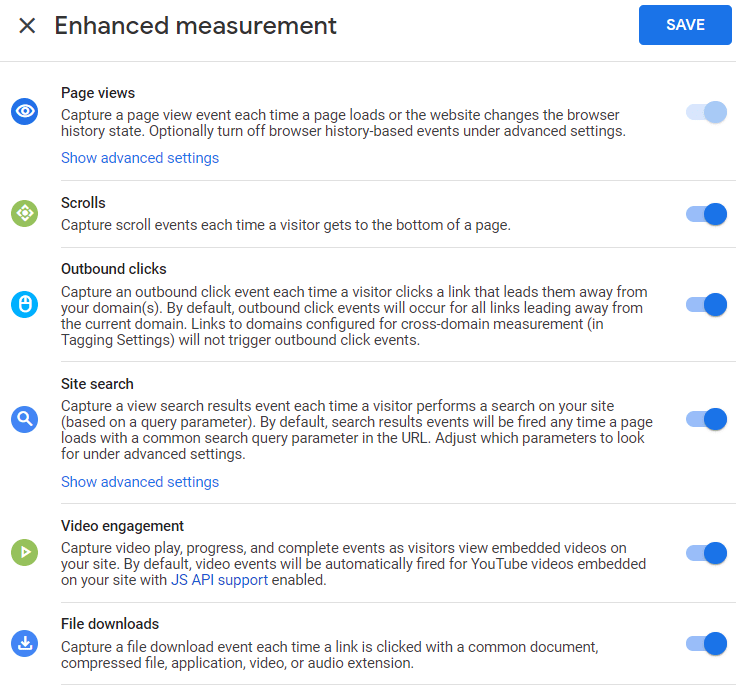 We love that Google built this in, specifically the file downloads and outbound clicks. However, you need to be careful with the enhanced measurement.
I recommend checking on the tracking to confirm it's accurate. These automated measurements are done through "event tracking", and GA4 gives you that data, then the option to "mark as a conversion" as it populates. Definitely be sure tracking is accurate before marking as a conversion, even if it's your normal click tracking setup.
Another perk here, you don't have to enter events as Goals to have them populate as conversions in the GA backend, it's just a click away!
Once setup, you can go into the new Analytics Overview. It's different, but seems to have some benefits!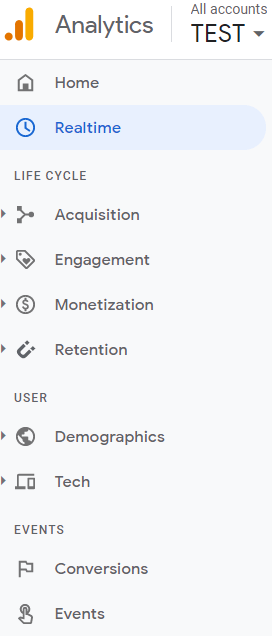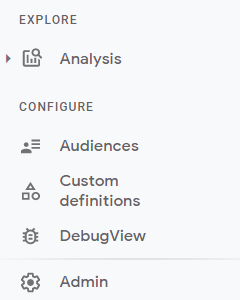 Creating a GA4 Property with an Existing GA Property/UA-ID
As I said, we're learning together.
Below is a walk-through with an actual Google Analytics account and Goal/Conversion tracking in place.
In the Admin settings of Google Analytics click "GA4 Setup Assistant" in the property column.
Click get started
Create property (likely won't be able to enable data collection with existing tags)
The property is now created and it keeps your original GA4 property.
From here there are additional setup assistants.
Key Item: Even though GA4 is technically "setup", you still need to implement the tag to start populating data. So a good place to start would be with the tag implementation setup, and I'd recommend just running through each. If you didn't do this right away, don't worry! Your universal analytics account will remain unchanged.
There are setup assistants for everything from tag implementation, to conversion tracking, measurement, linking and more.
For this blog, I'm going to review the tag implementation process and then conversion/event tracking.
GA4 Implementation
Once in the implementation assistant, click on your website's data stream
Then you have the option to setup
At this point-I was a bit confused because I'm seeing options to connect the previous tag. I'm firing a gtag through GTM, so I'm going to try to use that gtag.js, and connect it to GA4. Apparently there was an option to do this through the initial setup, but I must've overlooked it. All you have to do is enter the UA ID and then give it a nickname.

4. At this point, I'm not seeing any data show, so I go back to the setup assistant and I'm trying to use the existing tag still. It is very confusing, because in this case I'm using GTM to fire GA. But both are technically on the page. So I'm going to start with going to the UA property and making sure we're connected. It basically needs like you need to setup the connection in both properties.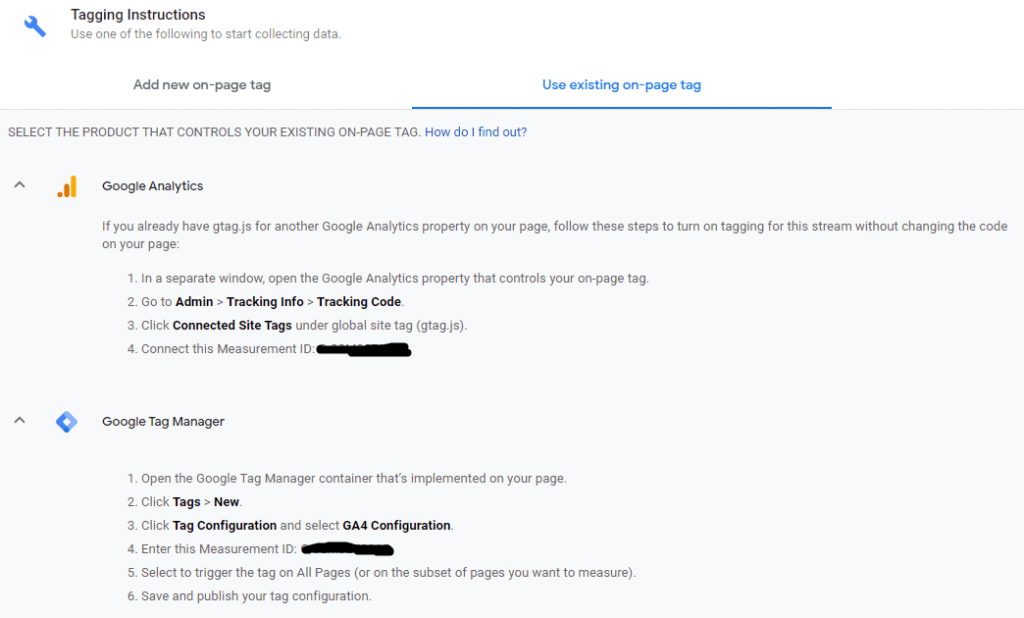 5. This also didn't work. I'm assuming because I technically am firing the gtag through GTM. So I will follow the instructions above, make that new tag, and start triggering. Initial concern here is that we're going to have multiple/duplicate tags. But usually that doesn't mess with data and is something we can clean up later by getting rid of the old gtag. Since it is staying active though, having both may not be a bad idea to ensure no data is lost through this transition. Basically it seems like we're not really connecting the tags/transferring data, it seems like we're just creating 2 tags that are going to have 2 sets of data (1 in each property).
6. I'm going to let this process for a day or two, then I'll update this and proceed to the GA4 conversion tracking setup. (Should update by mid-April). As the tags are implemented now, I am seeing the GTM, GA, and GA4 tags. There are no errors with the tags showing in tag assistant. So if you've gotten this far, we're definitely making great progress and the tag is installed, so data will begin to collect at a minimum.
GA4 Conversion Tracking
Coming soon (Mid-April)
Google's Resource for new Analytics Accounts (CMS-Website)
Google's Resource for existing Analytics accounts
What is a data stream?
A data stream is quite literally the stream of data from your website into analytics.
Is old GA going to go away?
As of now, it doesn't appear that the standard Universal Analytics is going away. GA4 is still fired as a gtag.js, it just has a different data model that collects more insightful data, faster and easier.
Can you Revert from GA4?
No, you cannot revert or downgrade from GA4.
Is there a Certification from Google on GA4?
Not yet! Have to assume they're working on that though.
Currently, with the existing Analytics Academy, they point you to some Analytics Help Mini Guides to learn about GA4.
There does appear to be some training/courses out there from other companies.
Is all of this too much? we'd love to help!
At webFEAT, we stay on top of the latest and greatest from Google, including their algorithm updates and how you can leverage components of them.