Google Ads has developed into much more than solely simple ads that appear in the search results. You can advertise across the internet on over 2 million websites, on YouTube, you can create different search ads like shopping ads or Google Guaranteed, and more.
All of the options are great, and they can be leveraged based on your business and its goals.
In this post we're going to break down the different ad campaign types, and when they are best utilized.
Google Ad Campaign Types
Search Text

Overview: These are the ads that appear at the top and bottom of search results. Usually they look like a normal search listing, but over time Google has added a lot of add-ons. For example: reviews (pulled from Google Business Profile), sitelinks (links to other pages on your site), callouts (additional links with compelling verbiage/points of difference), and much more. In my experience, these ads have been the most costly.
Best for: These are best for businesses with a narrow target, to avoid a large amount of ad spend, much of which could be wasted. The only exception to that is a larger business that has the budget and can afford to be present all over the place, maximizing brand awareness.
Example: Let's say you are a local garden center. There are only a handful within a 30 mile radius, so there shouldn't be much competition. If you're specifically looking to sell certain trees, flowers, etc. you could bid on specific, intent searches like: garden center near me, local garden center, garden center with trees.
Setup Tips: The biggest tip I can give is to narrow your target, and continually narrow your target as you gather data. If a search phrase you're bidding on isn't driving conversions, pause it. If an age range isn't converting, pause targeting there. Make an ad schedule based on when people's search interest is peaking. Add negative keywords. etc. The more targets you can eliminate, more money will go into ads appearing for those who will actually come to your store, or make a purchase online. Also make sure that you add as many headlines and descriptions as you can, Google will show you the top performers, then you can test new ones on the poor performers. There are a lot of settings at the initial startup that will help your campaign move towards your goal faster, and it should continuously improve.
Bonus: We use a software called ClickCease that reduces wasted ad spend by preventing competitors, bots, or spammers from maliciously clicking your ads and getting away with it. Ask us about it!
Display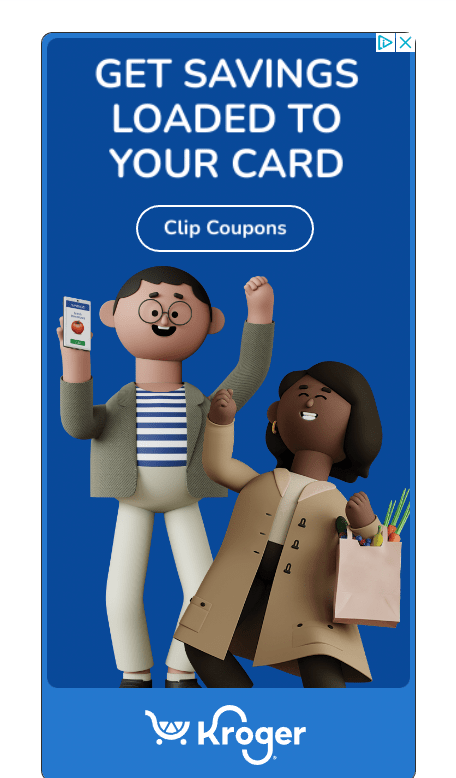 Overview: These are image ads that appear on websites all over the internet. They might be a banner rectangular image or square, usually they appear on higher volume websites. These ads are inexpensive and will get a lot of views.
Best for: Branding campaigns, raising awareness about your business and the general products/services information. They can also be good for promoting items or a sale the masses may be interested in.
Example: Let's say you are a new business in your local area. You may have a small budget, but you need to let people know you're open for business. Display ads could run and get solid exposure for ~$60 per month.
Alternatively, if you're a large business, maybe a home improvement store opening up a new location, you could run a display ad for a small amount of money that lets everyone in the area know a closer location is now open, to help build traffic in the store.
Setup Tips: Unlike Search Text ads, targeting settings aren't as important here because you want to reach a large group of people. Set whatever audience/interest/topic groups you feel you'd be okay with the ad reaching, and set the location to the area you want to reach. That could be a radius around a town center or the entire United States.
YouTube/Video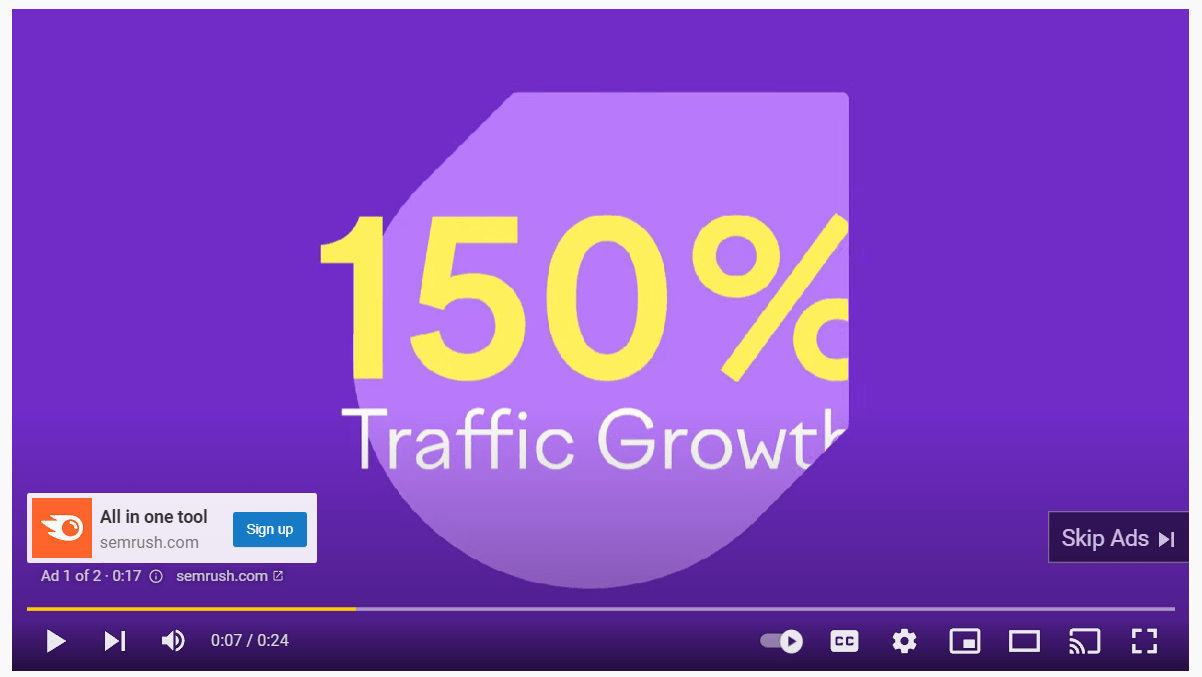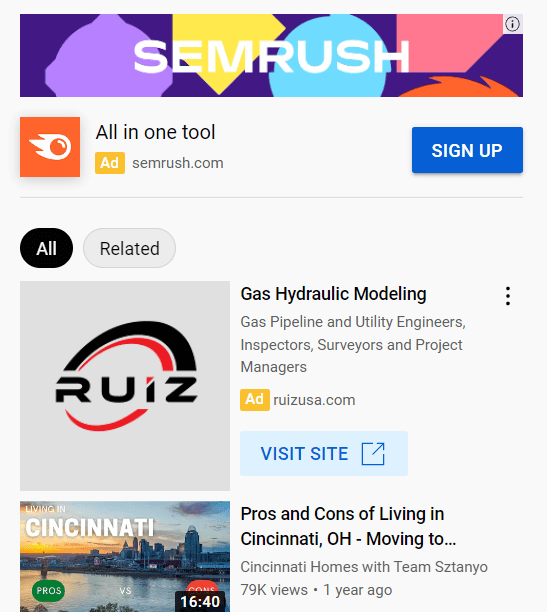 Overview: These are video ads that show up before and during YouTube videos, sometimes they can appear in the suggested videos sidebar or at the bottom of a video too. Sometimes during setup you'll have the option to select, but other times options are limited in an attempt to improve viewer engagement and revenue.
Best for: Those who have video content that is really well put together, or professionally done. Ideally, it should be geared towards your target audience. Technically like display ads, you can also build a lot of awareness. This is a more expensive route to do so, but if you have a strong video and message-it could create a stronger connection with viewers.
Example: Something that has been blowing up this year is a business called Crumbl Cookies. You can tell when you first land on their website or any social media profiles, that they create high-quality video content, regularly. A lot of people like cookies, so they could run an ad with this weeks menu on YouTube, and potentially drive people to order online.
Setup Tips: Leverage as many headlines and descriptions as you can, try to set some audience/interest/topic groups, and I like to add a CTA that links to the site. You can amplify the potential for a conversion with a landing page specifically built for the YouTube ad, this could apply to really any ad campign type.
Shopping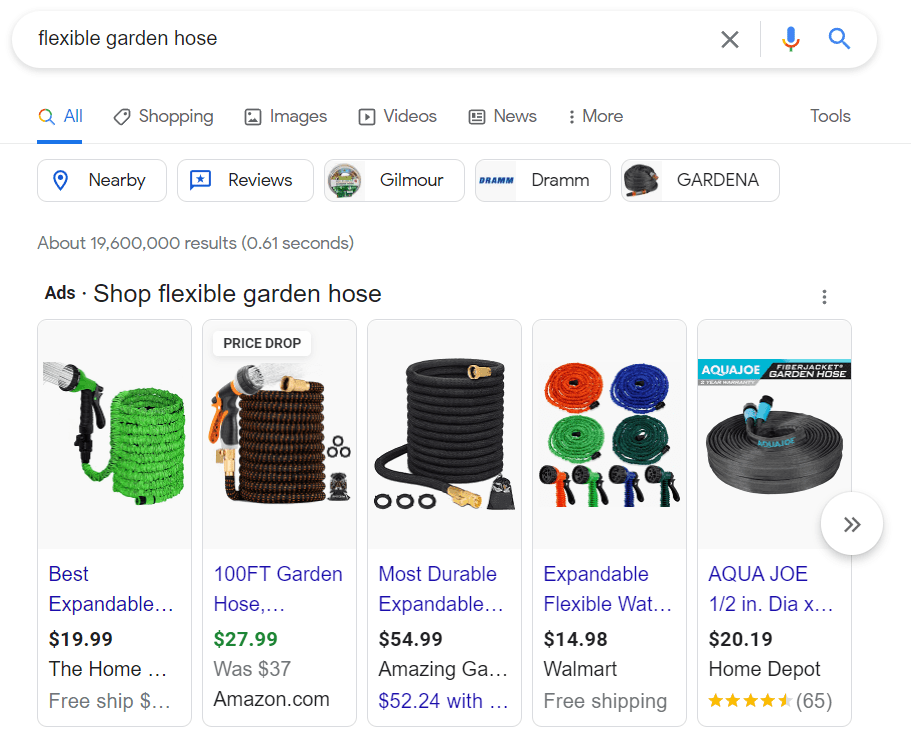 Overview: For product searches, there generally will be shopping ads at the top of the page with product options, the brand selling them, price and sometimes shipping information (see above).
Best for: Businesses that sell products. Ideally, we want to generate a significant amount of return on your ad spend. At the beginning of the campaign, it will likely take some time and targeting tweaks to generate sales, and then we continually improve to lower cost per conversion (in this case, transactions generated would be the conversion.)
Example: You've probably done a search for a product you need recently, and noticed or even used the front and center ad from: Amazon, Home Depot, a local or online supplier. With it being summer, I've been getting a lot of yard-related products. If I search for flexible garden hose, you can see what shopping ads appear for my area in the image above.
Setup Tips: Make sure you get the feed right, and check on it in the Merchant Center frequently. Many sites will have a plugin to help you create the feed. It can be a bit of a pain to set this up and get it right, but once you do, these ads are well placed and can drive great ROI.
Local Service Ads/Google Guaranteed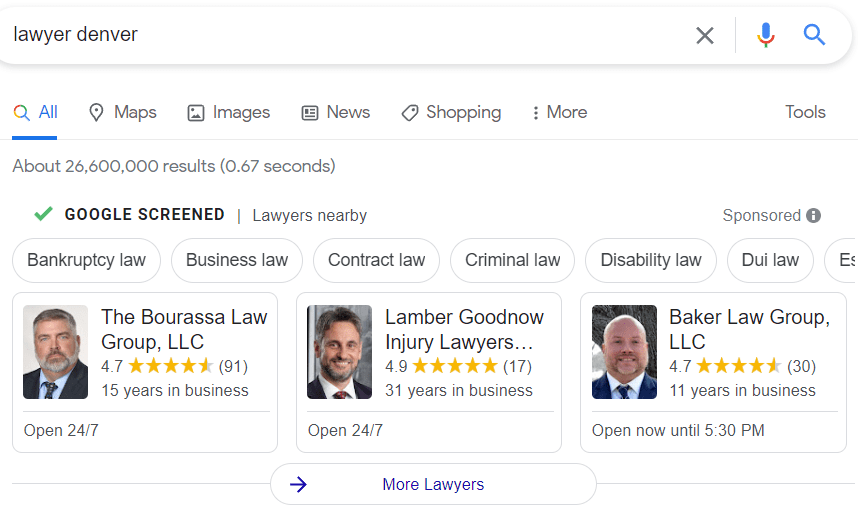 Overview: If you provide a local service, you could be eligible for Google Guaranteed. HVAC companies, plumbers, lawyers, etc. go through a background check, get an ad at the top of the search results with a green checkmark, and only one or two other competitors.
Best for/Example/Setup Tips: Get all of the details on these kinds of ads in our recent blog post-https://www.webfeatcomplete.com/google-guarantee/
Performance Max
Overview: This is a newer ad type that lets you access all ad channels/campaign types, from one campaign.
Best for/Example/Setup Tips: We've seen great success with PMax campaigns for ecommerce websites. For any questions you may have, please refer to our Performance Max for Ecommerce Guide.
Going into this, we are cautious. Sometimes Google makes campaign types, settings, etc. that ultimately increase ad spend but don't increase return. It will be interesting to see how they are able to distribute these ads, and if it is effective.
In the meantime, Google has an informative page on Performance Max ads.
Smart
Overview: Smart campaigns are a simplified version of the Google Ads Platform that uses their technology and some of your basic business goals to drive results.
Best for: Straightforward campaigns with a narrow target. I've had great success with these, but I've also had the opposite. I'm personally not a big fan of these ads, because they offer less customization and control with targeting settings. If you're running Google Ads on your own, they might be a good option.
Example: An insurance agency wants everyone in his local area to know what they can do.
Setup Tips: Setup is very easy, a simple, automated, step-by-step guide from goals, to creation, to publishing the ads to be live.
App
webFEAT Complete does not build apps or run app ads. We do know that you can use these ads to drive installs, engagement, or pre-registration.
Learn more about app ads.
Want to test an ad campaign or two for your business? We'd be thrilled to help.
Schedule a meeting so we can get to know your business, make goal-based recommendations, and give you a free estimate.
""