One thing that you may forget to take into account when optimizing your website for search engines are the images that you put along with your content. An often overlooked asset for SEO, images can drive traffic to your site through Google image search results. There are a number of things that can help your placement in image search results as well as give a better experience for the user in general. Here are some things that you can do to better optimize your images.
Great Images
First and foremost you need to make sure you are finding great images to use. You don't want to use generic, dull, or uninteresting images. Images can actually help a user decide if they want to read your content or not so it is vital to use high quality ones. We've already written a post about where you can find the best, free stock photos on the internet, which you can read here. Of course, you can use Google search and filter Creative Commons images, but you need to be 100% sure you are legally allowed to use these images, otherwise you could be faced with some issues.
Image Filename
Don't disregard the actual filename of a photo. When you go to save a photo you can sometimes be given a random file name. For example, the photo above was originally named "12662517_1117145321630226_n". That's not a very descriptive filename and it doesn't help search engines at all when they go to index it. Instead naming it something like "optimize-images-seo" using dashes to separate words is extremely beneficial to SEO. Whatever the image may be, you should be using a descriptive filename for it.
ALT Text
As with traditional page SEO, alt text is extremely important. This is because search engines can't read or determine what an image is about, unlike with page content you have written. So, to circumvent a search engine's lack of human eyes, it will use things like alt text to categorize what the image is about. Ideally, you should be as descriptive as possible without making the alt text or description too long. Also, using correct anchor text is helpful for search engines. If you simply use a generic term such as "photo" to link to an image you're not doing yourself any favors. Be sure to use keywords that are relevant to the image. Also, ADA Compliance has become a more prevalent issue in today's digital world. By adding descriptive ALT tags, you are also adhering to ADA guidelines and limiting the risk of your business being sued. It only takes a few seconds to add an ALT tag when uploading your images and we recommend taking the extra time to do so!
You don't want to get caught spamming, so naturally you should be using images that are actually related to what your filename, descriptions, and alt text are describing. When all of this is aligned you have a greater chance to boost your SEO.
Image Size
Finally, image size can play a huge part in your site's SEO performance. The main factor image size affects is website speed and Google has emphasized site speed as one of the key factors for improving SEO and overall rankings. You want your images to have the same dimensions as the place the image is going to reside. For example, the average width of a slider image is around 1200 pixels so you wouldn't want your image to have a width of 2200 pixels upon uploading. It is always best to resize images to the appropriate dimensions before publishing them to your site. By using image files with the smallest possible ratios, you are removing weight from your site and improving its speed. This optimization tip is especially important for large e-commerce websites that have hundreds or thousands of product images.
Here's an easy way to find out the size of an image without going into the backend of your site:
Right click on an image and select "Inspect"
Google's Inspect Tool will appear and you can scroll over the section of code that is highlighted as shown below.
You will notice two ratios: The image size actually being used and the intrinsic size that was originally uploaded to your media library.
If these two ratios differ drastically, you should re-upload the image so that your intrinsic size is similar to the actual image size.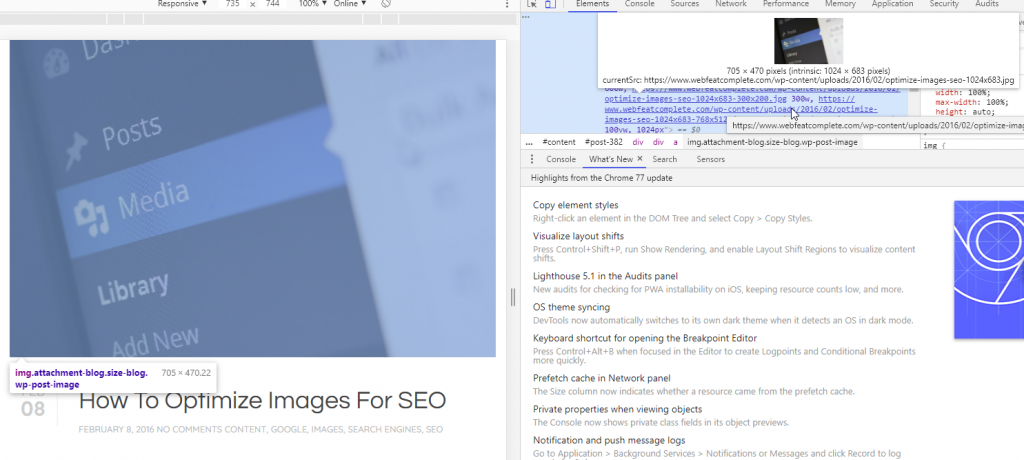 When it comes down to it, images are just as important to optimize as is the page and content that is going along with it. Make sure all of your information for EVERY image is in order before publishing any kind of content to the web. Optimizing adds another layer of SEO to your website and is something that you should definitely not ignore.