"Social Selling" is the process of using your social media network to help find prospects, build more trusted relationships, increase leads and ultimately increase your sales goals. Your employees can provide this value to potential prospects by sharing what your company does on a day to day basis. While this is technically possible through any social media channel, LinkedIn is really where this strategy shines.
Let's cover the stats very quickly. Sales reps who utilize social selling strategies achieve:
45% more sales opportunities
51% more likely to hit quotas
78% of social sellers outsell peers who don't use social media
As you can companies and their staff that utilize social selling better position themselves for not only prospecting but in the hiring process as well as you can better position yourself as a thought leader in the industry. There are many features and tactics available on LinkedIn that can help increase your company brand use of your personal profiles. Let's cover a few below!
Have a polished profile
The first step in the process is to sell yourself. And having your personal LinkedIn profile FULLY fleshed out leaves such a positive first impression on people that even just a single visit to your profile could get prospective clients foot in the door without you every having to do any direct outreach. You should take advantage of every field LinkedIn offers you including:
A professional, clear profile photo
A fully thought out bio that uses keywords of what you do
An eye catching profile headline
Legitimate connections
Endorsements from clients, colleagues, etc
Your skills
Job and education history
More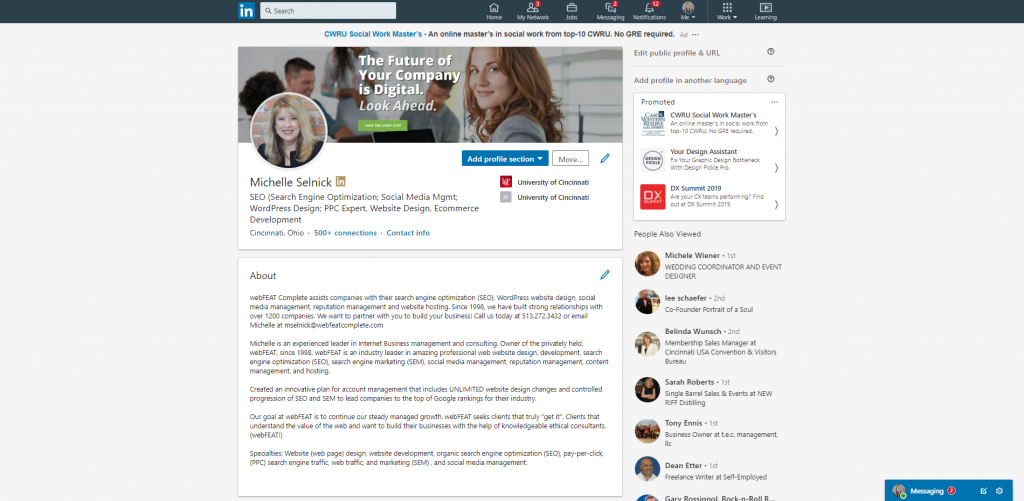 Make legitimate connections
The more connections you have with people on LinkedIn the higher probability it is that you will start to show up in other people's feeds as related connections once you start doing some sales outreach. People trust people they know so having those connections helps.
However, it is important not to spam people. LinkedIn wants to keep "mass connecting" to a minimum so you can't take advantage of it. If you don't follow their conditions you risk getting your profile frozen. People that you can safely follow would include:
Your own company network like colleagues, manager, etc.
People you worked with from past companies
Other companies within your industry
Industry influencers
Your current list of current clients/customers
Your current list of personal contacts
Give people a great reason to connect with you
As I mentioned LinkedIn highly discourages people from adding others at random so there are a couple of things you can do to make sure you don't get flagged for spam when doing some outreach. When you start your social selling process and are looking for people to connect with to get the ball rolling head for the search box on the homepage. Here you can find people by keyword, such as "CEO" and location like "Cincinnati". Another way is to click through on local business profiles and check the "People" tab on the page. Here you will get a list of users and their specific roles within the organization which is good for outreach.
Once you identify these users give them a reason to connect with you. The best way to do this is to provide some sort of context for the connection request (aside from the generic text LinkedIn gives you). Something like:
"Hi! I noticed that Ray is a mutual connection of ours and I would love to connect with you."
"Hey! I noticed that you work for webFEAT and wanted to see if you'd love to connect. I'm always looking to find industry experts to connect with!"
"I read your comment on Justin's post and I couldn't agree more! Would love to connect with you."
Use your companies' content as a sales tool
Your company should already be utilizing LinkedIn as a tool to enhance the reach of their original content (and if they aren't give us a shout so we can discuss how we can help you). By sharing this content to your profile, you are drastically increasing your brand's reach across LinkedIn. This does a number of things including actively driving more traffic to your company website as well as helping to nurture potential prospects by education them and showing your value. Someone that consistently sees your company content come across their feed will have a greater sense of trust when it comes time for them to use your product or service.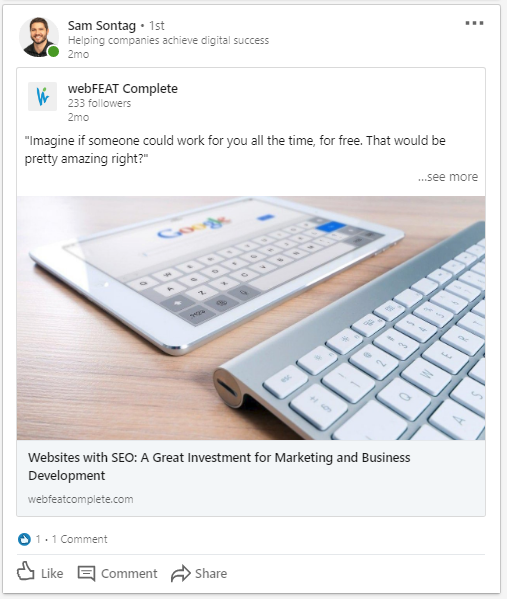 Take advantage of LinkedIn InMail
A lot of the time you don't know the email address of a decision maker or person that you would like to start a sales conversation with. This is where InMail can help. Using InMail you can reach out to a prospective customer without needing to have their direct contact information. The great thing about InMail is that the user will receive your message in both their LinkedIn Inbox as well as getting notified via their email address.
Join and be actively contributing in LinkedIn Groups
LinkedIn, like most other social networks, is taking a turn and putting great emphasis on Groups. It makes sense – people have specific interests and they are more inclined to contribute to a group that interests than rather than the main feed where it's a smorgasbord of content. There are thousands of industry specific communities you can join simply by searching for them. These groups consist of people are looming for answers to questions and people who are there to help answer them. This is an opportunity for you to make a connection by giving them a helping hand and showing your value vs being just another sales person looking to make a sale.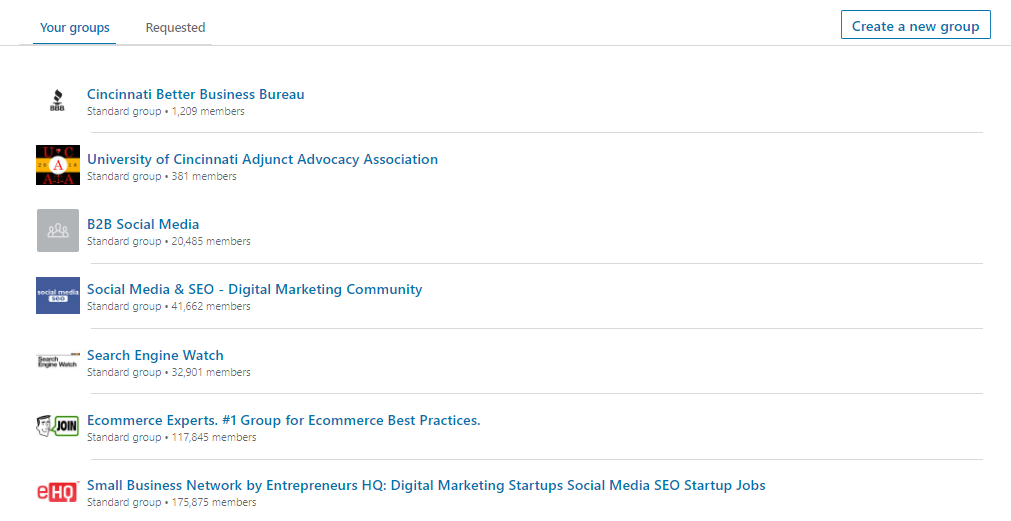 Make it a point to be active daily in the feed
The algorithm loves active people. The more active you are – liking, commenting, sharing – the more likely it is you will show up in others feeds and recommendations. A quick like or comment on a coworker's post is enough to help boost your presence to new leads because that activity shows up in the news feeds of others. The more active you are the greater the chance you can find new people to connect with which in turn gives you the opportunity to prospect them. 15-20 minutes a day is enough to increase your personal and business' brand on LinkedIn.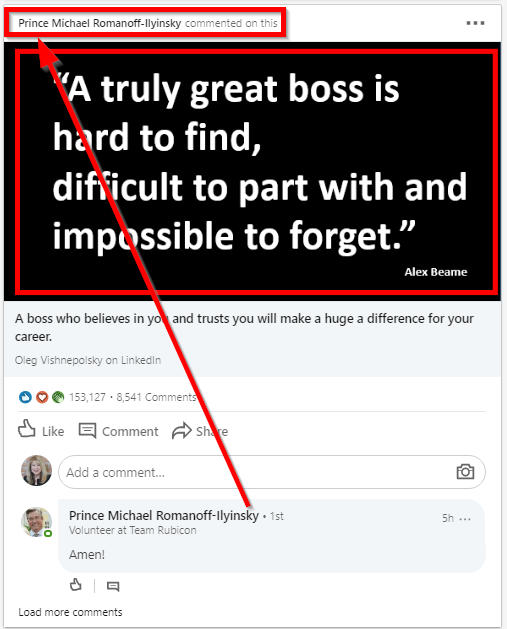 LinkedIn social selling is something that everyone can do – not just the sales team – to increase your LinkedIn visibility and trust. There are people that solely use LinkedIn as their entire "marketing" budget and do very, very well with it. But you don't need to commit full time to move your sales quota needle. By running through the recommendations above on a daily basis you will start to notice more and more people actively contacting you and coming to you for advice. And once you have their ear, you can start to process of closing the deal. All by using a FREE social media platform.
If you'd like to learn more about LinkedIn or any other social selling channel, you can give us a call or contact us here for more information on how we can help your company's LinkedIn presence.

""