Businesses have listings online. Some are manually created, and some are auto-generated.
Either way, local businesses need to have a variety of local listings. The information on those listings needs to be accurate and consistent.
You'll find listings on Google, Bing, Yelp, Facebook/Meta, LinkedIn, and more. Just search your brand name in Google to see all of the ones out there for your business.
Easy enough, right? Well, unfortunately, it can be a real time-consuming pain!
In this post-we'll walk through new and existing business examples, discuss priority listings, and also provide an easy way to get key listings updated.
What is NAP and Why Does it Matter
NAP stands for Name, Address, Phone number.
There are a lot of articles out there that discuss its importance. SEJ has a good NAP importance post.
For businesses, the main takeaways are that it can improve your local presence, and position in Google Maps (and others), ultimately improving traffic and conversions.
I was surprised to find that almost no one has data/a study on this, at least the top-ranking results. I will add a study to this post shortly. We've seen this work effectively time and time again with our clients.
When NAP Gets Inconsistent
Auto-generated listings where the algorithm pulls the wrong information
Business Name/Offerings/Information Changes, Rebrands
Listings are not checked on or managed
New locations open or close, or you move locations
Phone numbers change
What Listings are Most Important for NAP
Consider where prospective customers will find you, and that will lead you to the most important listings.
Google, Bing, Yelp, and Social Media Platforms are an easy start.
Then you can start to consider your industry. For example, if you're a manufacturer, maybe ThomasNet will be of some importance. Or if you're a lawyer, Avvo or SuperLawyers. A restaurant-Trip Advisor.
Down the rabbit hole you go!
How to Fix it
Manually
Going through manually can be effective, but it has cons.
It takes forever, requires tracking in a sheet, and requires a lot of manual communication where you'll often encounter sales reps. Some of the listings are associated with Yellow Pages, Yext, or other platforms that will force a phone call, or buying into a plan to update them.
Use a Tool
Yext used to be the only tool to do this, and because of that they were always expensive and remain expensive. They also tout the number of listings they update, however, many of which are arguably worthless.
Now there are other tools, one of which is built into our favorite software: Semrush. Sure it has some listings it updates that aren't that important like all the listing tools out there, but it's much more efficient and cost-effective, while still covering the important ones.
We can take care of your listings anytime with this tool, quickly, at a one-time low cost. All of the important ones, and then some. No need to hunt listings down manually.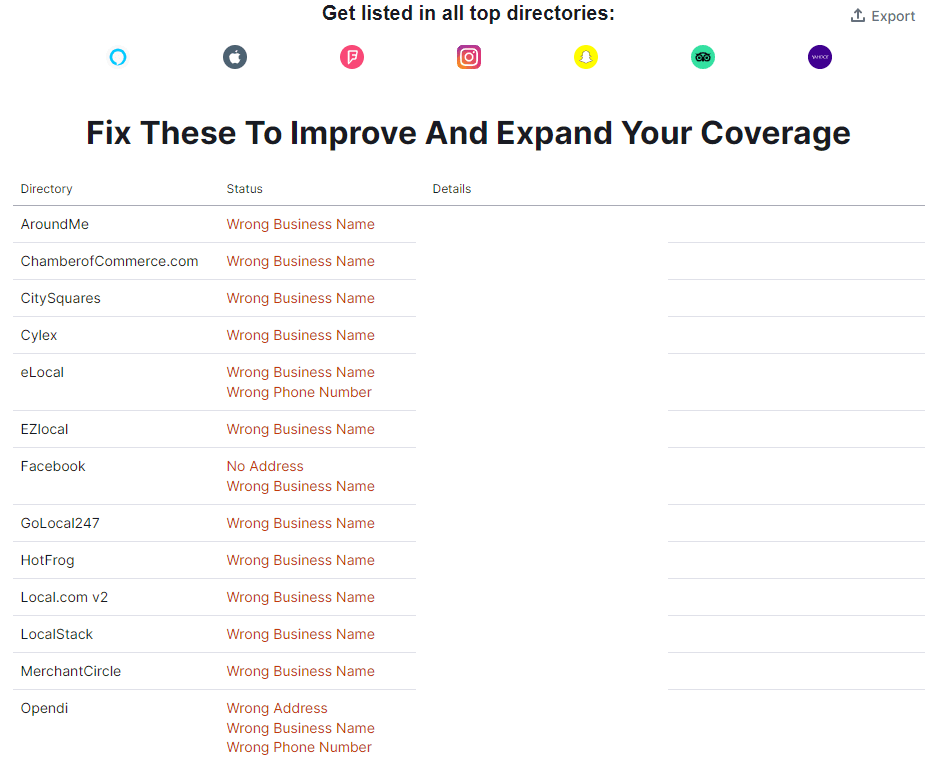 Example 1-Branding/Business Change
It's common for businesses to rebrand, update their name, change services and basic information about the company.
This should prompt an effort to update listings.
If you do not, you'll have listings out there that could confuse prospective customers.
With Local SEO we want to make sure it's easy for customers to understand and contact your business, eliminating any hesitations they might have.
Making sure business listings are updated and accurate is one way to do this.
I strongly recommend using a tool, as opposed to manually doing this. Manual takes too much time that could be better focused on other tasks, and sometimes you can't get listings appropriately updated.
Example 2-New Business
If you're a new business, you have a clean slate!
The sooner you start creating listings, the less room for automatically generated listings, and associated errors.
I recommend making a spreadsheet with columns for the name of the listing platform, login information, and notes.
This will help you build out listings, keep track, and be able to easily update in the future.
That being said, a listing tool can make this easy and eliminate the manual work.
Example 3-Any Existing Business
Really any business can use this.
It is rare to find a business who is taking advantage of all listings, keeping them updated with all accurate and consistent information.
If not much is changing with your business, an update every year or so would be beneficial.
Again, I recommend letting the tool do the work for you here. Quick, easy, and low cost.
Want to get your listings updated?
Request a Quote or Schedule a Meeting
We'd be thrilled to get involved with your Marketing efforts (new clients), or enhance them (existing clients)!
""