Helping our clients achieve online success has always been our goal since we started webFEAT. It has been 20 years since we founded this company and time just flew by when you are enjoying helping businesses grow. We are thankful for the achievements that we've opened, and we are excited to announce this new one!
With great fulfillment, we announce that webFEAT was recognized as one of Akron's most reviewed design agencies!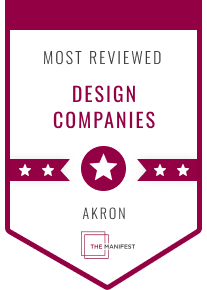 To show you how we got here, here's a brief background of our journey:
Established in 1999, webFEAT is led by our fascinating and hardworking President, Michelle Selnick. Our goal is to work with you to achieve online success for your business. Our services include website design, e-commerce development, search engine optimization, social media management, social media advertising, content management, website hosting, and more.
Over the years, webFEAT's team has enjoyed working with businesses in different industries such as manufacturing, construction, nonprofits, and more. We have been fortunate to be supported and trusted by brands like Manufacturers Supplies Company, Cincinnati Parks, American Heating & Air Conditioning Co, Bass Lake Campground, and more. The approval of these companies helped us get to where we are today, and because of them, we're recognized by independent industry experts.
We've gained leaders awards, esteemed honors, and prestigious recognition from various organizations. But we are here today to announce that we've also ranked for The Manifest's recent research. Buyers can find agencies on The Manifest to partner with by skimming the platform's free shortlists of top-performing agencies from around the world. The Manifest is a business news and how-to website that compiles and analyzes practical business wisdom for innovators, entrepreneurs, and small and mid-market businesses.
This means so much to us as it's a validation of how far we've come! We're excited to see what this brings to our company and face new opportunities. It's time to increase your website's traffic and return on investment. Contact us today for more information.