The eruption and history of voice search
We've come a long way since Siri was first introduced to iPhones in 2011. While voice search had already started gaining some traction (Google being the front runner in this endeavor, of course), Siri was the first option that users had to experience voice search at literally their fingertips. Not only could users make use of the tool for various searches, but they could also have a conversation with an app that talks back to them. Slowly but surely, other companies followed in Apple's footsteps, with the introductions of Google Now, Alexa, and eventually Google Home. From its introduction in 2011 to where we are today, voice assistants have established their place in the world as almost a household necessity.
Though the predictive statistic that "50% of all web searches will be voice-based by 2020" has been debunked, Adobe conducted a study that does indicate 48% of consumers conducting voice-based searches. In our consumer-focused society, everyone is looking for a way to save time with whatever they're doing, and that includes browsing the internet. Voice search is making it easier for people to quickly find answers to their questions, but is your website catering to the same need?
The voice search market is continuously growing and so is the intelligence of the voice search capabilities. As the technology is getting smarter and more available, more people are hopping on the trend. You know what this means- I'm sure: your website needs to be optimized not only for text-based searches but voice-based searches as well.
Think about how much time you put into your website. Or, if you're an SEO expert, how much time you put into your client's websites to make sure they are optimized for text searches. It is imperative to be on top of the industry standards and, with the data indicating a shift towards voice-based searches, optimizing websites to also be ranking for searches using these voice assistants.
Now for the part of the post we're all here for: how exactly you can work to optimize your websites for voice search capabilities.
Use long-tail and question keywords
Because voice search is more conversational, the nature of the search words people use is different. For example, let's say you're at your computer and can't remember the name of the actor who plays Jim in The Office. You might type something like this into the search bar:
"Office actor Jim"
However, if you're in the same situation on the go and decide to use the voice search function on your smartphone, that search may sound something like this:
"Who played Jim on the Office"
It's longer, more conversational, and question-based. Your voice assistant is going to pull the most popular option in the search results, and it may be something different than what comes up for a text-based search. If it's simple enough, the voice assistant may even read off the answer for you.
To make sure that your website is the one that the voice assistant chooses, it needs to be optimized to get listed for those long-tail keywords and questions. But how do you figure out what those keywords or those questions are?
A great tool to use is SEMrush. They have a variety of different keyword research tools that allow you to see keyword variations and their corresponding search volume. It also allows you the opportunity to see common questions related to those specific keywords, which can further help you target the content on your website to answer those specific questions. The below example shows us using the Keyword Magic tool to look up question-based keywords surrounding "Cincinnati restaurant"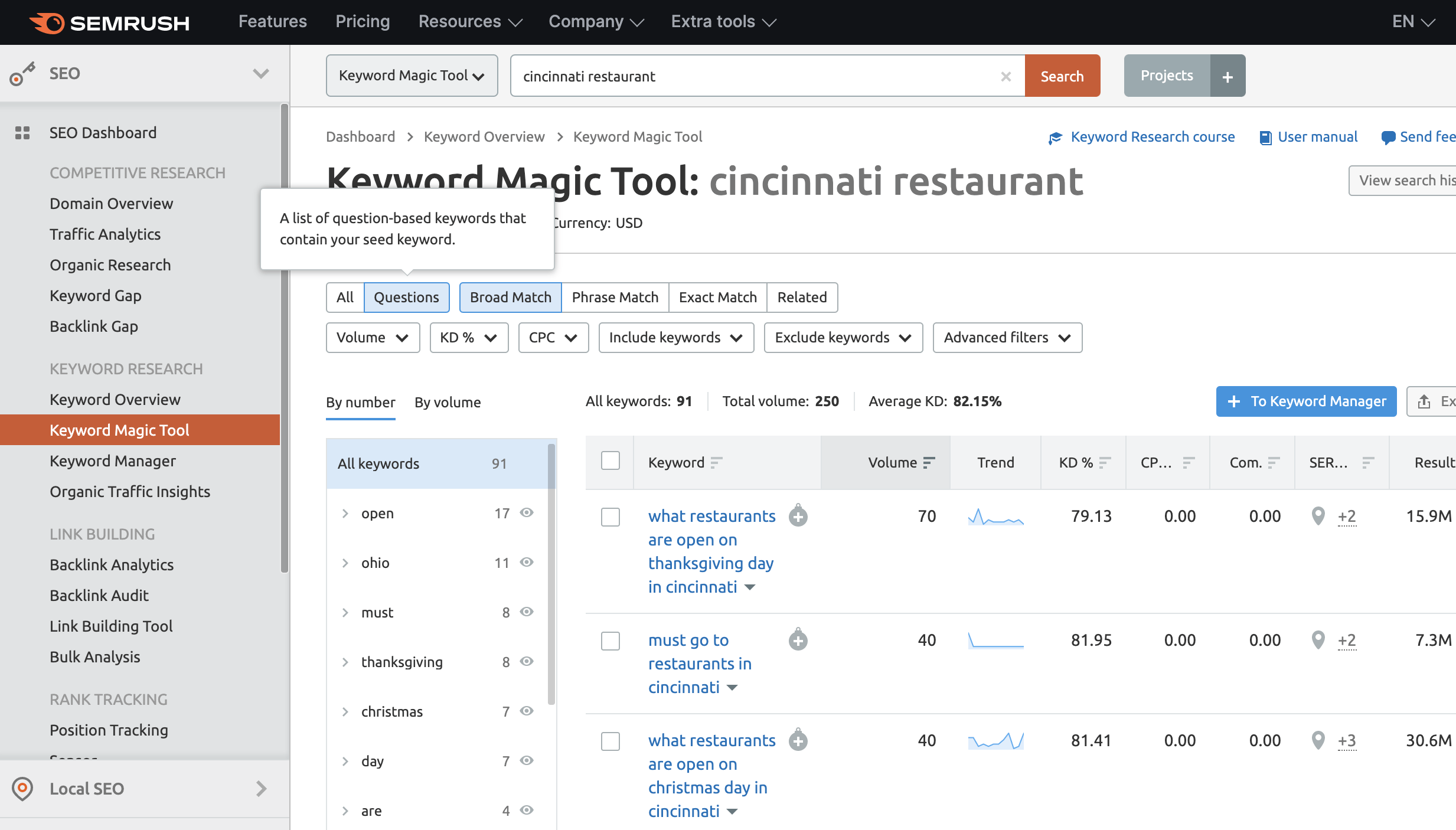 This tool can help you discover frequently asked questions that people are searching for in relation to your topic. You want to be sure to focus your website content on answering the "who, what, where, when, and why" questions.
Utilize conversational content to appeal to voice searches
As I explained earlier, voice search is a more conversational based search language. As opposed to quick, non-communicational searches such as "Cincinnati restaurant", you can speak to your voice automated searches in full, fluent sentences, such as "What restaurants are open in Cincinnati on Thanksgiving Day?".
For the voice assistant to be able to respond in a conversational manner, websites need to be optimized to read conversationally. This also helps with our first tip of answering questions. When you use natural, conversational language in your website content, the chances of your answer being matched to a natural, conversational question are much higher.
Though it may be a little contradictory, it is also beneficial to have short, simple answers to those long-tailed keyword questions- this will help your chances of appearing in Featured Snippets, and also your chances of being the selected answer the voice assistant chooses to read. Many companies have adopted the strategy of focusing a page or a blog post on a specific question, answering the question quickly and efficiently at the beginning of the post/page, and then elaborating further after the question is given.
Create and manage your Google My Business Listing
Take a second to think about what you search for when you're on your phone. Sometimes it may be things like the name of the actor who plays Jim in The Office, or what to cook for dinner tonight. However, I would hedge my bets that the majority of your searches center around looking for things near you. This could mean searching for things such as "Mexican restaurants near me" or "Where should I go to get my oil changed?". In fact, as of March 2019, Google reported that "near me" searches have grown by over 200%. This number is expected to continue to grow as it becomes easier (through the use of voice assistants) to find the things that we are looking for close to where we are located. It's easier than ever to find what you are looking for- especially because you don't even have to open your phone to do it.
Now, if the proper optimizations aren't in place, your business won't be discovered using those searches. One way to ensure that you appear in any "near me" searches for things related to your industry is to create and manage your Google My Business listing. That way, if you're a Mexican restaurant in the Cincinnati area, and someone searches for "Mexican restaurant near me", your business will show up in the results.
You also want to be sure to maintain your Google My Business listing, updating with any changes in your store hours, location, phone number, and website. You want to make it as easy as possible for people (and voice assistants) to find you. Updating your hours also helps to target specific questions. For example, if you're a restaurant that is open after 2am, and someone is searching "What restaurants are open right now", an updated Google My Business listing with your proper hours will ensure that your restaurant is displayed in the results.
Optimize for speed and mobile-friendliness
Even with text searches, you want to ensure that your website loads as quickly as possible. If someone clicks on your website's link in the search engine and your site doesn't load quickly, thus making them wait longer for the answers they need, the user is more likely to bounce from your site. The same goes for voice search queries. If your website doesn't load quickly enough, it won't be used as the answer to voice searches.
Backlinko conducted a study on voice search results and discovered that the average voice search result page loads 52% faster than the average web page. It is essential to be sure that your website is optimized to load as quickly as possible, both on desktop and mobile, to increase your chances of appearing in the results.
These are just a few important ways to make sure your website and it's content are optimized for voice-assisted searches. As these types of searches continue to grow and develop, more optimizations may be necessary. This is where it becomes important to work with a team you trust to stay on top of the changes that your website needs to continue to rank in the search results. If you're interested in taking the leap and investing in the continued success of your website, reach out to our team. We would love to get connected with you to help build a plan catered to your business and your success.
""