When considering SEO or any digital marketing related career, it can be difficult to start learning. A gift and a curse from a career perspective, content is a big part of SEO.  The curse is that there is so much information out there that you may find yourself wondering, "Where do I begin?" The gift is that when you know what you're looking for, you have plenty of resources to gain from, compare and eventually have your own take on (which you can put into helpful, informative blog posts and website content to leverage your website and/or business with Google.) This is where SEO for Beginners comes in.
Learning SEO for Beginners Pt. 1: Recommendations and Software
Personally I was made aware of SEO through my cousin, and I was able to shadow him at the company he worked for (at the time) for a few days.  This was invaluable and allowed me to gain insight into what SEO consisted of and where to get started.  My first recommendation would be to find someone that you can shadow or perhaps get a summer internship.  Now is a perfect time to do this for college graduates (speaking of which, if you're in the Cincinnati area and would like to explore opportunities, webFEAT complete may be a good fit for you!  Contact us!)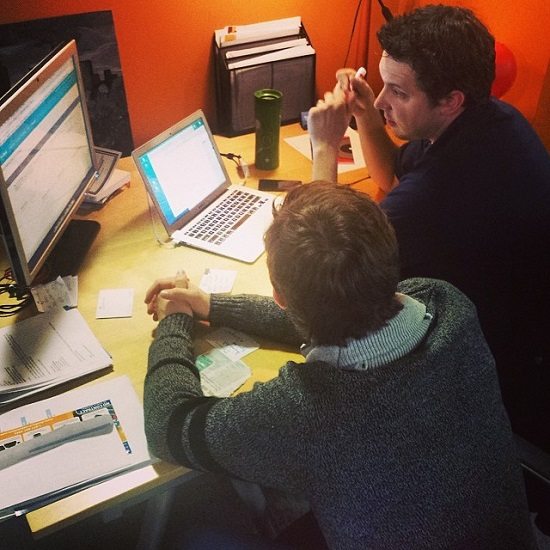 At webFEAT complete, CEO Michelle Selnick has been involved in website design and SEO for over 18 years, and through this she has earned a wealth of knowledge on a variety of digital subjects.  When first starting, she recommended the Moz SEO Beginners Guide as a starting point, and this is my second recommendation to you.  This guide is thorough and covers a lot of the fundamentals for an up-and-coming SEO.  With Moz, it doesn't stop there.  Rand Fishkin and his Whiteboard Friday's are something I still watch every Friday.  He touches on relevant topics that bridge the gap between beginner and advanced SEO techniques.  Everything on their blog and their software is incredibly helpful to SEO's of all experience levels.  If you want to be in this field, do yourself a favor and check them out!
Speaking of software, it's something that you will be using a lot.  As you can probably imagine, Analytics and evaluation is pretty important in digital marketing, so the right tools and software can be critical to breaking down information that will help make an impact.  I don't want to give away all of our tools of the trade here at webFEAT, but some great tools that are used by many include:
Anything Google (Analytics, Search Console, Keyword Planner, etc…)
Bing Webmaster Tools
Page Speed Tools (Refer to our past blog post on Improving Page Speed/Load Time)
and so much more. Therefore my third recommendation of SEO for Beginners would be to look into these and learn about how they can help you, help clients or your own business in the future.
Learning SEO for Beginners Pt. 2: Resources, Influencers and More Recs.
My fourth recommendation is to keep up with current trends, algorithm changes and updates and anything SEO while learning about those of the past.  No day will ever be the same for you, because everything is constantly changing.  This is why we've always advised against doing SEO on your own, because it really requires a lot of time to do it right.  The best place in our opinion to keep up with the latest important information is Search Engine Land.  They have great people working there that truly know a lot about SEO and SEM.  Their editors are content creating machines that are constantly writing articles that educate and guide analysts and digital leads to ongoing success.  On top of this, they are partially responsible for putting on the SMX conferences that happen all over the world each year.  This year I got a chance to go to the one in San Jose, where much was learned. This brings me to my fifth recommendation, go to a conference at least once a year! This is a great opportunity to learn SEO for beginners.
Through Moz, Search Engine Land and conferences, I've been able to locate and connect with several authorities in the industry.  Following these authorities on social media (particularly twitter) can be beyond beneficial in keeping up with the latest trends and interacting with the people you will learn from and grow to admire.  This is why it's my sixth and final recommendation is to pay attention to and interact with authorities in the search engine optimization and marketing world.  I follow Rand on twitter and as previously mentioned keep an eye on his blogs.  This presents an opportunity to directly communicate via comments or replies, regardless of who it is.  From Search Engine Land, Barry Schwartz is incredible.  He is the main person on search engine land posting updates, and he often gets his information directly from sources at Google like Gary Illyes and John Mueller.  Following him on twitter keeps me in the loop 24/7.  Last but certainly not least is Bruce Clay.  He started doing SEO before Google existed!  I did one of his training sessions at SMX West and learned a great deal of information.  There is a lot to be learned from his website or social media accounts.
SEO with webFEAT Complete
If you read through this entire SEO for Beginners post, you might be feeling overwhelmed with the idea getting started.  If SEO isn't your thing, or you just don't have the time to do it properly, that's why we're here.  At webFEAT complete we want to put your website in a position to generate qualified leads, that will lead to consistency and growth in your business.  It's a rewarding job that we're proud to do.  If you have any questions at all, please don't hesitate to get in touch!  You can do so via form, email, phone or social media, all of which you can find through our main website, webFEAT complete.