Would you rather listen to a podcast about this? Check it out!
A conversion is different for every business and is dependent on your goals.
Types of Conversions
clicks on phone # links
clicks on email links
Form Submissions
Newsletter Signups
Promotion sign up
Visiting the cart
Visiting the checkout
Transactions + Revenue
PDF/Brochure/Form Download
Software Download
Software Install
Scheduling an appointment
Making a reservation or clicking to an external reservation link (like OpenTable)
Clicking to a portal
Account registration
Examples by Business Type
For ecommerce businesses, a successful SEO campaign drives more transactions and revenue. Keep in mind that businesses can incorporate ecommerce even if it isn't the focus of the business. EX: HVAC maintenance packages, gym memberships, subscriptions, etc.
For an offline service business, a successful SEO campaign might be more focused on request for estimates on an install, clean up, etc.
For a restaurant, driving to go/online orders + clicks to an OpenTable reservations link could be the most important.
Measuring Success of Digital Campaigns
There are plenty of metrics outside of "conversions" that are valuable, but ultimately conversions will measure the success of a digital marketing campaign.
We can use Google Tag Manager + Analytics to track conversions, and where they're coming from (organic search, PPC ads, social media ads, backlinks, etc.) This not only helps us to build successful campaigns, but also helps us continually improve, and reinvest time and dollars where the most return is being generated.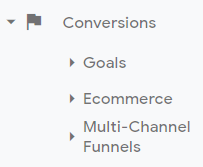 We generate Conversions + ROI on digital marketing investments.
Contact us for an audit of your online presence.
""