You've probably heard it before: YouTube is the #2 search engine behind Google. On top of that, YouTube videos appear in Google's search results. So if you're not utilizing videos in your SEO strategy, you may want to build it in for 2019. It's certainly easy to focus primarily on Google, but "Search Engine Optimization" is an umbrella term that covers all search engines, Google and YouTube included.
These days, there are a lot of visual learners. People often feel too busy to read lengthy content. Creating video content gives you the opportunity to add to your existing website content, draw users in and get them to engage, and content can even come from the video (ex: a transcript.)
In order to best understand how to rank at the top of the YouTube search results, you must understand how YouTube's algorithm works, and the ranking factors associated with it.
YouTube's Algorithm and Ranking
Along with other search engines, YouTube wants to provide relevant, useful content. They also want to encourage users to come back, and engage with videos. They say themselves in their Creator Academy that their Search and Discovery algorithm has two goals:
Help each viewer find the videos they want to watch
Get viewers to keep watching more of what they like
Bottom line if you want your videos to rank: create great video content that speaks to your audience. Sure, YouTube's algorithm factors in video titles, descriptions, thumbnails, and more that we'll discuss in the strategies section, but those factors are just the foundation. If your video is useful and satisfies the users query, that's where you can start to really get views and grow your presence.
A great example:
Your car tail light goes out. You know it's not that hard to replace it yourself, but you also don't know how to get the cover off, to put the new light in, or what kind of light you need. You're hopeful you can find all of those answers in a YouTube video.
So you go ahead and do a search "Replace Jeep Patriot tail light" or something along those lines. You find a video that shows the process, but doesn't detail the type of tail light (Brand or type) and it's not narrated. You watch part of it and then back out.
Then you find a video in the search results that is narrated, gives the brands and model numbers of tail lights for different years of the Jeep Patriot, and it even has a transcript and links in the description with estimated costs. You watch the video the entire way through, it solves your problem, and you give it a thumbs up.
YouTube's algorithm cares about audience reaction. If they see that when presented, the video is being watched in its entirety, folks are liking it, maybe even commenting it, and it's utilizing some best practices (up next), they'll be inclined to position it higher, as it may satisfy other users searches too.
Video Optimization Strategies
Whenever I'm discussing strategy there is one place I always start: the user. I try to put myself in their shoes. They are the ones we're trying to guide through our funnel, so we need to think about what they would want, and how to make them happy.
The first things the user sees after doing a YouTube Search:
Thumbnails
Titles
Descriptions
Views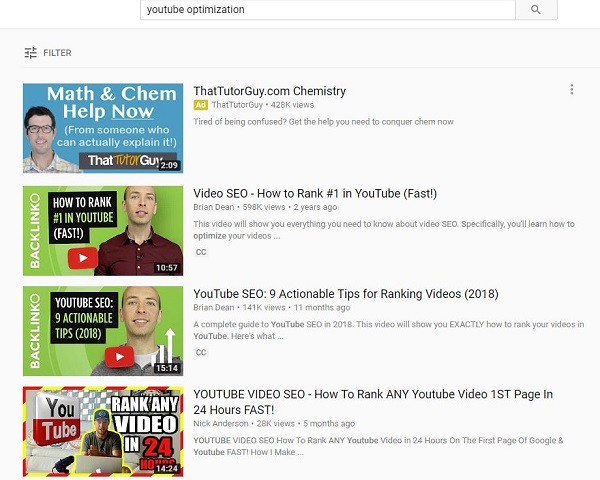 To start, we can control 3 out of those 4. They should be optimized to the best of your ability. Just like optimizing a website/website page for Google, you want to optimize the video for YouTube. There should be keyword/search phrase research behind the way you name your video. Look at related searches, the content appearing in other videos, and make sure you're gearing everything to the prospective viewer, encouraging their click on your video.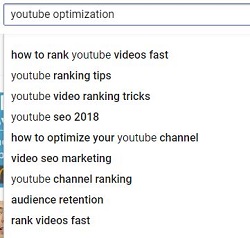 Then we get to the video, what does the user see?
The video itself
A playlist (if you've set one up, which you should) and related/recommended videos
Likes/dislikes
Subscribers
The description with the option to show more, and within, categories
Comments
So what can we do with that?
As we've already discussed, the video content itself is of the utmost importance. It can influence subscribers, likes, comments, and other audience reactions that YouTube will reward. If you have a set of related videos, make a playlist! It can encourage viewership, and that's part of what Google's algorithm is looking to do. Many YouTube experts recommend using closed captioning too.
The beginning of your description will show in the results, so use those limited 160 characters or so wisely (similar length to a meta description!) The rest however, offers a lot of possibilities. Transcripts, a more detailed description, timestamps, links to websites, CTA's, and more can be placed here. Use quality tags with your video too.
The rest is up for the viewers to decide!
YouTube/SEO Software
SEO software's are starting to build YouTube into their tool-sets. I didn't do too much exploring on this, but I did come across one interesting video and chrome extension that seemed quite systematic and useful, vidIQ. It gives you a scorecard, and checklist to see how well you're optimizing your YouTube videos. For me, that's what I'm looking for. Quick, to the point, beneficial, and I can always dive further if need be.
Here is a sneak peak at the checklist they provide: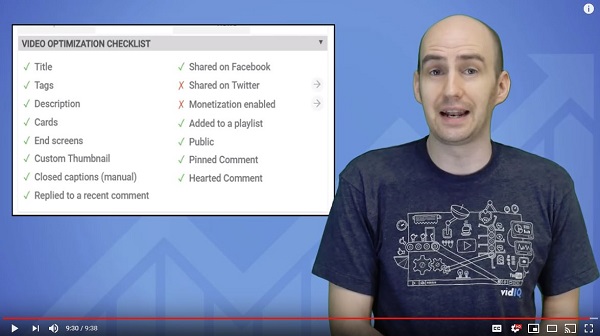 Use YouTube in your SEO Strategy!
The purpose of this post was to give you a more zoomed out view of how you can improve an SEO campaign with efforts on YouTube. If you find yourself wanting more, I'd strongly recommend visiting the creator academy, to get every detail straight from the source. Of course, I recommend exploring other information too from some experts that have built their own YouTube channels to be successful. I strongly recommend reading some of Brian Dean's YouTube content on Backlinko. He earned this link, as many of his resources (on his site and YouTube) have helped me get a better grasp on ranking in YouTube.
At webFEAT Complete, we're using YouTube where we can for our clients. We've even partnered with local video production company RESLV, if you want to go above and beyond with your videos. We'd love to take care of or offer guidance with YouTube, or a search engine optimization campaign in general. Start a conversation with us! Proposals are always free.
""