The holidays are approaching at lightning-fast speed (wasn't March like, 3 seconds ago?). With the holidays and the added bonus of it being the year 2020, marketers all around the world are searching for the best tricks and techniques to achieve success through social media. Our team here has put together some tips to help you boost your social media game in celebration of the holidays, and 2020 almost being over. 
Plan and schedule out your social media posts
This is a tip that we recommend for all aspects of social media planning, but it is especially essential for holidays during a pandemic. You will want to take the time and think about what message you want your business to be sending, and how you will use social media to convey that message. Things typically also get much crazier for everyone during this time of year, so it is always best to have social media squared away and scheduled out so that it's one less thing you have to worry about.
With that being said, however, and we will discuss this further in a little bit- you still need to be social listening and staying on top of trends and current events. Not to sound like a broken record, but it is 2020. Things are bound to shift and change, so plan to invest some time staying on top of managing anything that may come up.
Plan out your advertising spend and get ads approved early
We highly recommend planning out your ads and submitting them for approval like, yesterday. You will be able to designate when the ads actually start running, so you can make sure they don't go live until Black Friday. By submitting them for approval now, you can have peace of mind that everything will be good to go on the day you want them to run and you won't lose prime-time advertising hours waiting for them to be approved. If they don't get approved, submitting them early allows you to have more time to fix any errors and resubmit them for approval. 
You also need to plan out your advertising budget. Because everybody and their mother will be advertising during the holidays, there will be more competition in the market for your target audience and keywords. This means that the ads will likely be more expensive, and you need to account for that in your budget. 
Embrace fun and positivity while staying true to your brand 
In a world full of so much uncertainty, people are turning to the brands they know and trust to be a place of consistency and predictability, along with that positive outlet that we all are looking for. Your followers will want to be very clear on what you stand for and will greatly appreciate all the transparency you can offer. Present fun, positive, uplifting messages to resonate with the joy we are all seeking this season. 
This could mean sharing memes, funny anecdotes, heartwarming brand stories- whatever is most consistent with your brand and will fit best into your feed.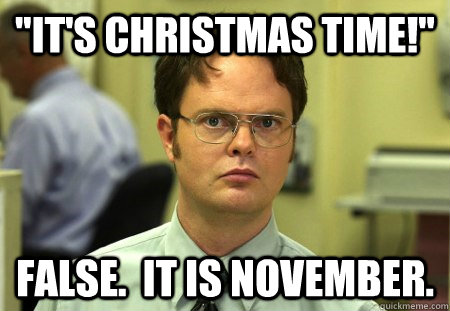 Acknowledge and celebrate cross-cultural holidays 
It is important to recognize all aspects of the holiday season, not just Thanksgiving and Christmas. The world is full of so many different people with so many different traditions and values, and promoting inclusivity within your brand is never a bad thing. Take the time to learn about what different holidays are when they occur, and then work them into your social media plan. We put together a chart of the different holidays celebrated during this season and their respective dates to make things a little easier for you: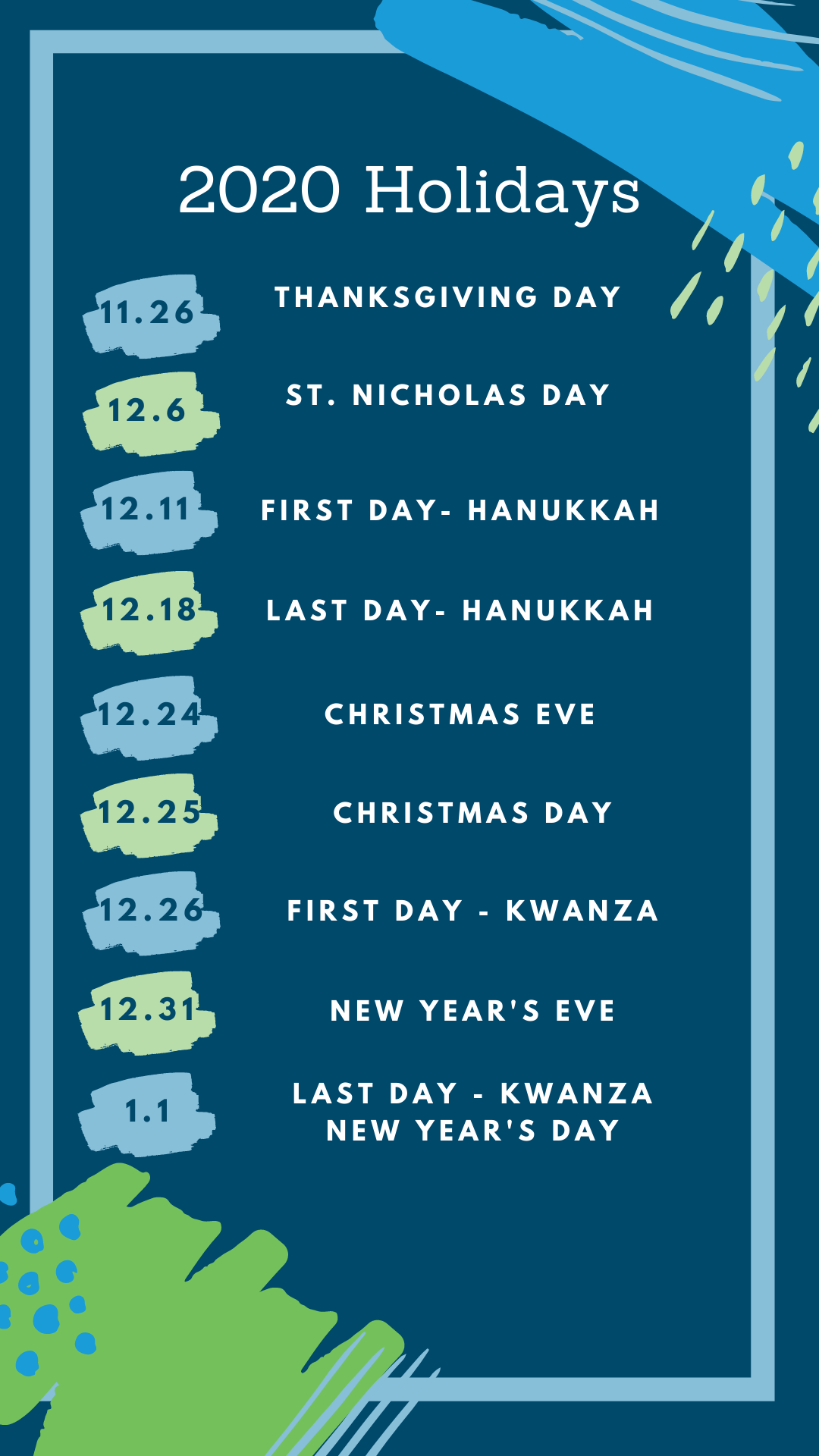 November 26- Thanksgiving

December 6th- St. Nicholas Day

December 11-

Chanukah/Hanukkah (first day)

December 18- Last Day of Chanukah

December 24 – Christmas Eve

December 25 – Christmas Day

December 26 – First Day of Kwanza

December 31 – New Year's Eve

January 1 – Last Day of Kwanza

January 1 – New Year's Day
Utilize Shopping Features 
There are many social media/internet shopping options available now: Facebook Shops, Instagram Shops, Google product listing capabilities; now is a great time for your business to start using those features if you haven't already. These channels are making it easier than ever for people to buy and sell products online. Consumers are now able to make purchases directly through the apps, so even if you don't have an ecommerce feature set up on your website, you will still be able to use these social features to sell online. We have a whole blog that goes into the details of Facebook Shops that can be helpful if this is something you're interested in getting started. Also, though it isn't technically social media related, Google also launched free product listings over the summer- take a look at our blog for more details on that! 
Forbes claims that some estimates are showing holiday e-commerce sales growing by 35% this year. Those numbers will only continue to grow in 2021, so now is a great time to start getting your business integrated into the world of buying and selling online. With so many options available to you on multiple different platforms, you can get the hang of online selling without even needing to update your website- at least not right away. Feel free to reach out for some ecommerce website development- that would be a great way for your business to kick off the new year!  
Be flexible
As I mentioned in the very beginning (cue record-breaking): it is 2020. Things are bound to shift and change without a moment's notice. It is our job as marketers to be on our toes, sitting quite literally at the edge of our seats waiting to see what the next 6 weeks are going to throw at us. We have to be prepared to change and adapt our plans to meet the needs of what is going on in the world, and our careful social media plans need to have a little wiggle room to accommodate for anything that may come up. 
Be flexible. Take the changes in stride, approach them with a positive and uplifting attitude, and we will all get through this together. It will be 2021 before we know it, which I'm sure will present its own growth and changes. These last few weeks of the year and this holiday season are a great opportunity for your business to lay the foundation for many good things to come. 
Social media can be pretty consuming- we get that for sure. Now could be a great time for you to consider working with a team of experts to help boost your social media presence and plan out your schedule for the holidays. If you're interested, reach out to us for a quote, or submit some details and receive a free social media audit. We would love to get connected with you and begin helping your business achieve success online. 
""