Putting a few dollars a day into digital search ads for your brand can go a long way.
Is it a good idea for your business?
We'll help you identify the value and take action in this post.
Reasons to have branded search text ads
Search in Google/Bing
Search for variants of your brand name. If you see a competitor (potentially one you've never heard of) appear on top with an ad. Branded ads are worth consideration to avoid losing prospects to that competitor.
Just starting your online presence
If you've just launched your first website or have/had an issue with your existing site where you weren't being indexed—your appearance in searches for your brand name may not be optimal. If you want to control how you appear on top of the search results, branded ads are worth consideration. This can also bring clarity to your branding and enhance recognition.
Brand not appearing how you'd like it to
Between reviews, listing sites, PR, articles, and the time it takes for Google to review and process business listing updates (process has slowed with COVID)—it's very possible your brand may not look exactly how you want it to. If this is the case, you can at least control how you're appearing at the top, where it counts. This again could bring clarity to your branding and enhance recognition.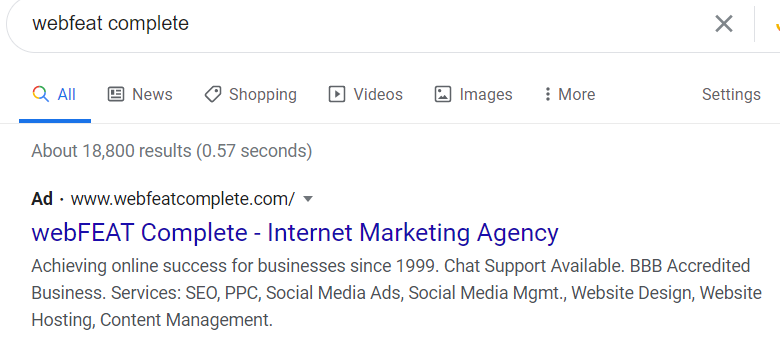 How these ads can help
Ensures your brand is on top for the branded search
Minimizes the chance a competitor will take away potential customers
High Conversion
Low CPC (usually)
Small-Med brands can do this with just $1-$5 per day (usually)
You can communicate a distinct message to existing customers and prospects when they search for your brand name
Enhance brand recognition
Enhance brand appearance
Consistent messaging
Downsides
Paying for your own brand name
Costs $
Another item to monitor
Thinking this could be good for your business?
If you seem like a candidate for branded ads, we can turn around campaigns like this immediately. Same or next day.
Talk with us more to better identify the need to run these ads for your business, and get started!
""