Introducing: "Social Media Ads By Industry" — A blog series dedicated to covering how social media ads can benefit your company on an industry by industry basis.
Up first: The Restaurant, Hospitality, Food & Beverage Industry.
Not in the restaurant, hospitality or food & beverage industry? Scroll down to suggest an industry you'd like us to cover below!
---
I hear quite often when we're prospecting potential clients why/how Social Media Ads would be beneficial to them. They don't feel like their company could benefit from social media ads or that their industry is the right fit. So one of the things we try to do is show each individual company how their business can ABSOLUTELY benefit from Social Media Ads.
One of the problems that arises is that "Social Media" tend to get pigeon-holed and stereotyped to mean "Facebook" — "I don't DO Facebook", "Isn't social media just for sharing baby pics", "My grand kids are on Facebook, why would my company need to be?" All statement heard in many meetings. While these are valid in some respects, they are completely off base in many, many others. Facebook is not the only "Social Network" on the internet and there are matches for each and every industry out there where social media ads can benefit them. I have already written about the value of social media ads before, so if you have time check that out first.
The first entry in this series may be the easiest industry to make a case for using social media ads. Restaurants and the hospitality industry in general are prime candidates for utilizing the affordable tools offered across all social media advertising channels.
Social media has officially eclipsed every other form of advertising in the Restaurant Industry. According to TripAdvisor, 82% of restaurants in the US devote at least a portion of their marketing budget on social media. Print Advertising (68%) and Online Listing Services (56%) were the next two highest budgeted forms of advertising in 2017. To go along with that, 49% of people use some form of social media to find restaurants before visiting the establishment first. So, needless to say, social media is an important medium to be actively advertising on. The question remains though: how can you stand out from the crowd? Let's cover that.
The Medium
This first thing we need to do in any campaign is decide what Social Media Channels we're going to utilize. As a restaurant there are multiple options to choose from with a few being the main focus.
Appropriate Social Media Ad Channels for Restaurants: Facebook, Instagram, Twitter, LinkedIn
Best Social Media Ad Channels for Restaurants: Facebook; Instagram
Benefits: Facebook and Instagram have a combined user base of almost 2.5 billion people. The demographics of these users is in line with a restaurants typical target market (25-55). And the targeting options available on these platforms are second to none.
The Goal
As a Food + Beverage business your obvious number one business goal is to get people to visit your establishment. When it comes to deciding the Campaign Goal to get those people to your establishment there are a few routes we can take.
Appropriate Social Media Ad Campaign Goals for Restaurants: Brand Awareness, Reach, Traffic, Engagement, Messages, Conversions, Store Traffic (if multiple locations)
Best Social Media Ad Campaign Goals for Restaurants: Conversions, Engagement, Brand Awareness
Benefits: While you could use almost any of these Campaign Goals these are the most beneficial to use. With conversions, we are able to optimize our Ads to target customers that are more likely to convert — for example on an OpenTable Reservation link, a phone call click, or a contact form on the website. With Engagement we will be able to build a presence on particular specials or deals going on. And with Brand Awareness we are able to easily get the restaurant, bar or other establishment's name out to attract new customers.
The Target
While you could certainly cast a wide net when it comes to who you want to send your ad to that would be a potential waste of advertising dollars going to users who are't interested in your ads. There are countless ways to go about targeting your ideal customer and it's impossible to list every targeting strategy that we implement, here are a few high level targeting options to take into consideration to get the best ROI.
Appropriate Social Media Ad Targeting Options For Restaurants: Locations, Location Radius, Age, Gender, Lookalike Audience, Detailed Targeting
Best Social Media Ad Targeting Options For Restaurants: Location, Location Radius, Age, Lookalike Audience
Benefits: Gender really shouldn't ever be selected as a targeting option Male or Female one way or the other. If you're a hospitality business or restaurant/bar you want to reach every gender user. Location is obviously very important. If you're a local establishment you want to make sure you're targeting the area around your business and you're not wasting money on, for example, the entire United States (unless you sell products online nationally — such as pies, sauces, etc). Detailed targeting is useful in some cases but in this case you don't really want to confine yourself to a set of characteristics but instead you want to base your advertising on users who already look like your current customers, which is where Lookalike Audiences are extremely beneficial.
The Creative
Now that we've chosen our channel, goal, and targeting it's time to decide on the user facing portion of the ad: the ad creative. For restaurants we have a plethora of options available that would be beneficial for our goal. So instead of listing everything let's just show you a few examples of ads that have been successful for a few of our clients over the years.
Single Image Ad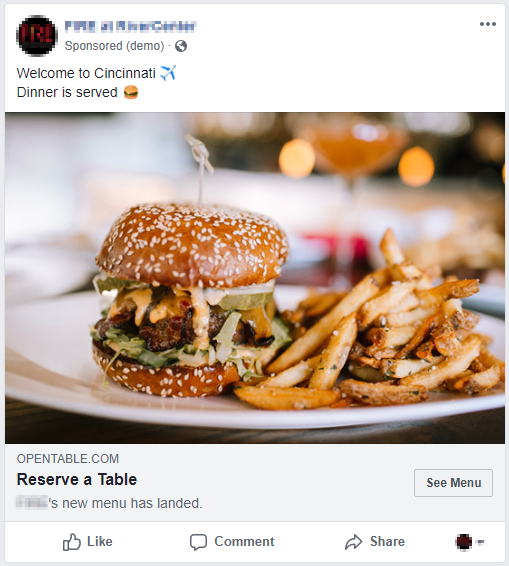 For the most part this is an example of a fairly straightforward ad on surface level. First, the imagery is drool worthy to grab the attention of the user while scrolling in their feeds. Next our call to action is a See Menu link to show those users the new menu items that have just arrived. However, underneath of this particular ad is a targeting strategy that involves targeting the area around the CVG Airport so that people who are arriving on flights and are probably looking for places to eat once they get settled will be able to see it. This is an example of a highly targeted restaurant advertisement.
Carousel Ad

Carousel ads are great for featuring multiple items. In this case, we wanted to feature the fantastic Vegan, Vegetarian and Gluten Free options from this restaurant. Throw in some hyper targeted audiences and voila. We also wanted to make sure the users on their mobile device would be able to find us via driving directions so we planted a directions card at the end that when pushed will open the users maps app on their phone and start driving directions automatically.
Story Ad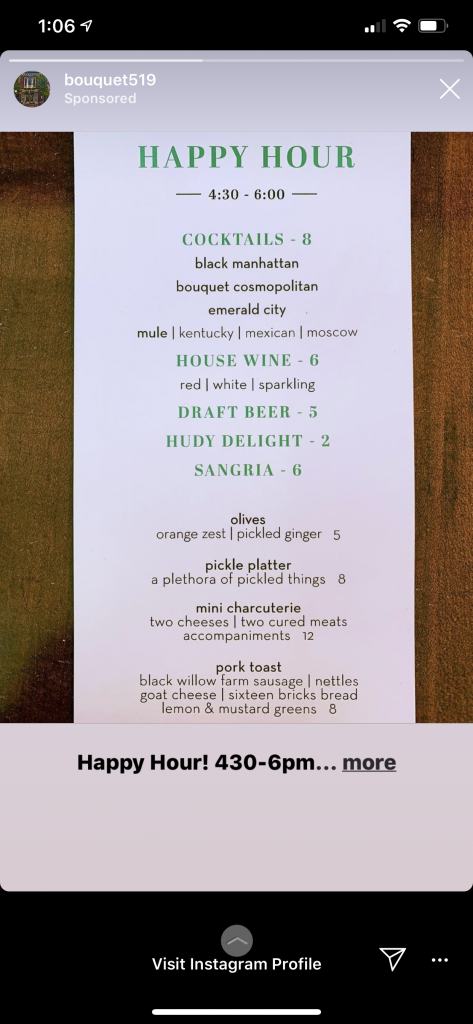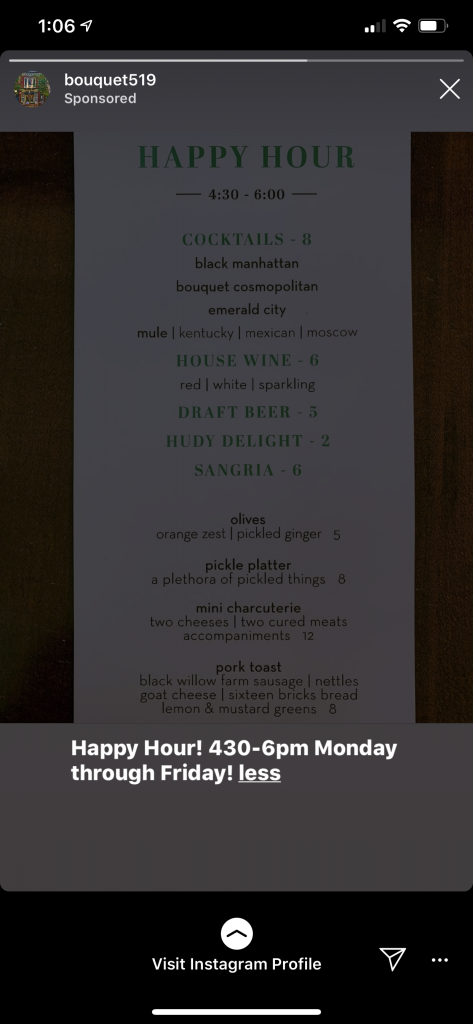 Quickly becoming the most effective way to market to social media users, Stories are the new "It" medium. These quick, in the moment posts are perfect for advertising things such as Happy Hours (seen here), specials for the night, last minute reservation availability, etc. Because of the nature of the "Live" status updates it allows an establishment to get their message out fast to a lot of people. And giving that a little boost with a few bucks could help fill a table that wouldn't potentially gone empty for the night.
Wrapping Up
Restaurateurs, bars and the like already operate on some pretty slim margins and that is usually the biggest reason they stay away from putting any money into social media ads. However, by investing only a few bucks a day you are able to reach an audience that is your exact target market. By using the basic targeting recommendations above, to go along with many other far advanced targeting features (lookalike audiences, LTV Customer targeting, competitor targeting, user behavior and more) the ROI on your investment is one of the best in digital marketing.
Not in the restaurant, hospitality or food & beverage industry? Let us know which industry you'd like us to cover next, and we add it to our running 'Social Media Ads by Industry' Blog series.
""