For more than a decade, UpCity's mission has been—and continues to be—to help businesses find B2B service providers they can trust. The UpCity Recommendability Rating was developed to determine a service provider's credibility and recommendability, giving UpCity the confidence to recommend them to the more than 2 million businesses that visit their site. 
Each year, UpCity analyzes and scores more than 70,000 service providers based on their UpCity Recommendability Rating and acknowledges the top national and local providers with an UpCity Excellence Award. The results are in, and we won!
We are proud to announce that the webFEAT Complete team has been recognized as one of the top B2B service providers of 2022 in the Cincinnati area by UpCity!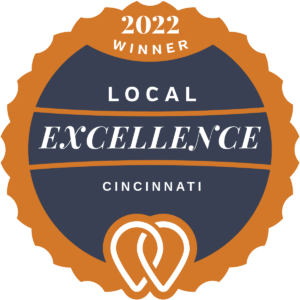 Jen Gadus, VP of Product & Design at UpCity, had this to say about webFEAT Complete:
"webFEAT Complete is a long-standing pillar of the UpCity community. Year after year, they consistently prove their commitment to the absolute highest levels of service, customer care, and results. They have 100% earned their 2022 Local Excellence Award."
—Jen Gadus, VP Product & Design, UpCity
This recognition has been driven in large part by our 4.8-star review rating on UpCity. Here are a few of our favorite pieces of feedback we've received from our incredible customers:
"webFEAT complete has a great team with years of experience! They are THE go-to agency for WordPress development and website creation in Ohio!" – Steve H., July 2019

"We have been with WebFeat for 6 years and through their SEO and design, maintenance of our website our customer base has increased dramatically." – Michael D., November 2018
Thank you to everyone who has taken the time to share their love and support by reviewing us on platforms like UpCity. We're ecstatic to win such a prestigious honor and we could not have done it without you!
Learn more about the UpCity Excellence Awards.
""