In this day and age you have to earn every sale and conversion from website visitors.
We've all wanted or needed something, and gone online to explore our options. Decisions aren't always made right away. For example, consider exploring flight options and eventually buying tickets.
In cases like this—we need to remind prospective clients/sales of our brand. Make sure that when they're thinking on that purchase, our brand is always in the conversation, and we're doing whatever we can to enhance our chances for conversion/sale with the messaging.
Some of this consists of CRO and email sequences—two great reads that compliment this post!
Let's get into some strategies your brand can utilize to stay top of mind, and increase awareness.
Display Ads
For general brand awareness, or to keep your brand top of mind—display ads are a great option.
They're inexpensive, and if you utilize some targeting settings (location, audiences, topics, placements, etc.) these ads can be pretty well targeted, which will increase engagement metrics and the likelihood of conversion or sale.
Display ads can be especially effective when they appeal to the masses, as we'll see in the examples below.
A lot can continually be refined to get more for every dollar you're spending.
Here are a few example display ads:


Both of these ads have simple messaging. They are of interest to a lot of people. Awareness + Conversion focused.
The top one will have users thinking about the brand every time they see an ad.
Anyone looking to explore insurance options will think of Farmers if they see this ad a few times. You could spend $3 a day and get this ad in front of 10's of thousands of people. Convert just 1 RFQ and this form of advertising delivers a fantastic return on investment.
Display ads can come in other sizes and formats too.
You can cap the number of times your display ad appears to avoid becoming an annoyance to searchers–which could negatively impact the brand.
Remarketing/Retargeting
A more top of mind focused strategy can utilize remarketing or retargeting ads.
These are the ads that you see of something you recently searched on Amazon. I think it's safe to say that those advertisements have probably convinced all of us to go back and make a purchase at least once.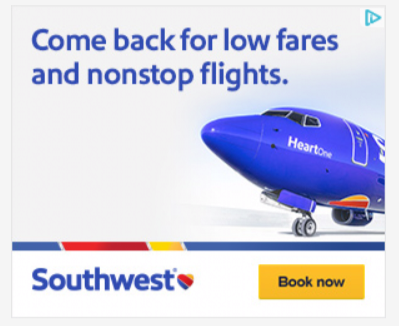 Southwest saw that you visited their website, but didn't make a purchase. By utilizing a banner ad they can remind you of your flight search, and encourage you to return to the site to explore prices and hopefully make a purchase.
Email Marketing
You can advertise in inboxes now, along with sending out newsletters, or email blasts.

My ads are telling me that I should take a vacation!
A lot of times these ads are overlooked, but all it takes is that one time that a user is looking to take action. If you are or have been front and center with your digital advertisements, it instills a bit of trust into the prospective buyer, and will make you a front runner when they are exploring their options.
Newsletters and email blasts target people that like you! Give them a coupon. Give them an offer. Thank them for their business. Continue to build that relationship. This can not only encourage a sale or conversion, but a lifetime customer.
Social Media Display + Re-targeting Ads
You've probably noticed these types of ads spattered across your social media feeds. The accuracy of each re targeted ads can sometimes make you wonder if your computer is listening to you talk.
The first image below is an example of an ad that was shown in a Facebook Feed as a result of a user visiting a Chase related site or interacting with a Chase related listing on Google or across the web. Because you've shown interest Chase now has the ability to target you directly in your social media feeds. The ads in social feeds are usually extremely relevant to your browsing history which is what makes them such a great platform to advertise on.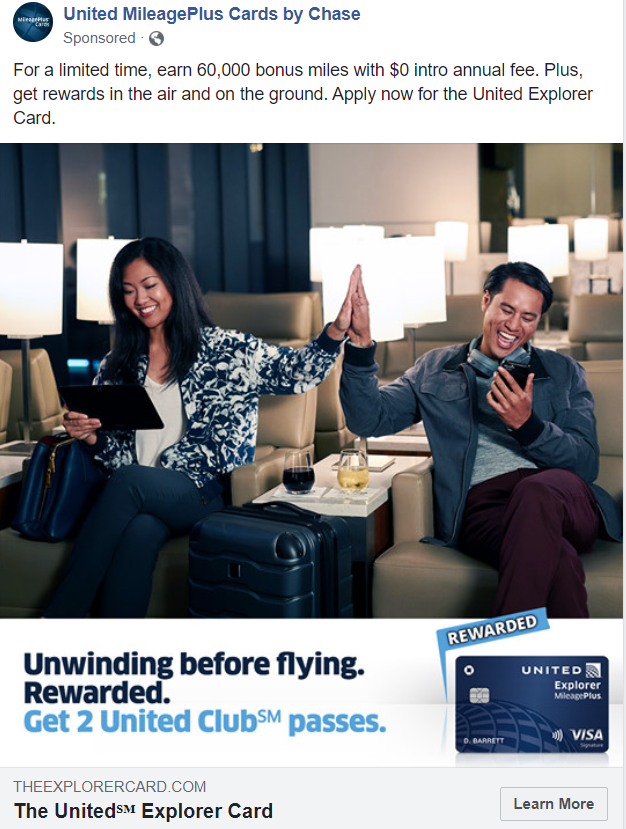 Facebook also has it's version of Display Ads, shown below. You've probably seen them floating over on the right hand side of your Facebook Feed on your computer. Like Google's Display Ads, these are very low cost and almost always used for brand awareness campaigns. Facebook also has it's own Partner Network where these display ads can show up as well across the internet.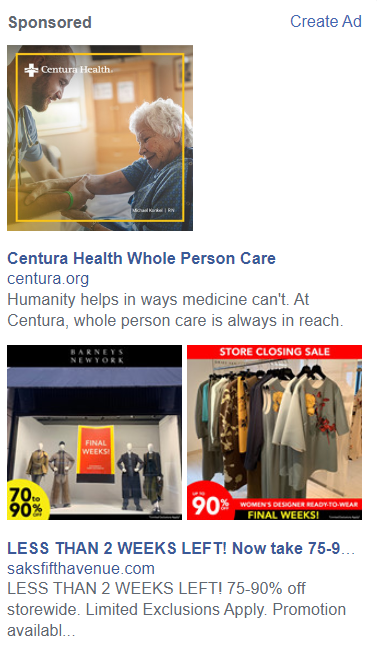 BONUS: Competitor Targeting + Radius Targeting
Sometimes there are specific competitors you can target to gain exposure, and take a bigger piece of the pie.
For example: Let's say you're a restaurant on a street that has 2 or 3 other restaurants. You could target those specific competitor brand names. Then when someone was looking for that restaurant, your restaurant immediately has an opportunity to capture a guest.
You can add another layer with radius targeting. Running display ads to people within a certain radius of the area. Notifying/Reminding searchers that you are there, and are a great option for dinner!
Digital Advertising Has The Potential for Sizeable ROI
By identifying a target audience and leveraging it in-part with digital advertising, you can get in front of a large portion of the people you want to be in front of, for a low cost.
Talk with our sales team about setting up a digital ad campaign today. Contact Us
Check out our available options to host your email and streamline your marketing efforts:

""